Wow, it's been 100 days now since our blog Narin's World of Taste went officially online… It's been an amazing time so far, writing recipes, taking pictures, and posting blog entries about my home-made healthy food. I wanted to take a moment and reflect, sharing my impressions, and define what my cooking stands for.
Defining what my cooking stands for
The most important achievement of these first 100 days is that I have defined the core theme and focus area of the blog. I'm now able to express what my cooking is all about and what I stand for:
Umami, also called the fifth taste.
Narin's World of Recipes and Melanie's cooking is all about healthy freshly prepared food combined with the unique taste of Umami. Almost every recipe is also carb-free, sugar-free, or gluten-free. I believe in "You are what you eat" and I hope I can inspire many more people to live a healthier and happier life with food full of flavors and well balanced ingredients. When I say "almost every recipe", I mean that I could never give up carbs completely. I enjoy a nice piece of pizza or a delicious risotto every once in a while, but not on a daily regular basis.
If you're interested in learning more about the fifth taste, please visit our Umami page.
The first 100 days: What went well? What was challenging?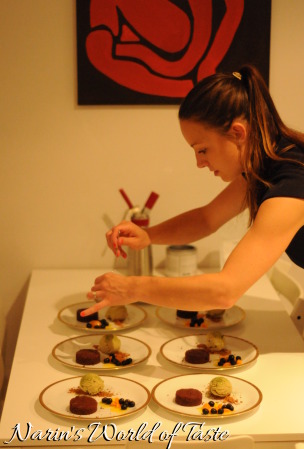 I would also like to take a moment and reflect on the first 100 days of food blogging and share what went well vs. what was most challenging. If you're about to start your own blog, this might be helpful to you.
I wanted to avoid going live with a blog that only had one or two posts. Many weeks before the blog was announced publicly, I prepared a number of recipes and blog posts, but in stealth mode. As a result, on Feb 6, 2015, when we publicly announced the blog and went 'live', I already had a collection of recipes ready in each of the categories, giving readers a more complete view of what I was blogging about. This warm-up time also gave me the opportunity to build up my skills with the various tools and digital workflows of creating recipes online. When the blog was announced publicly, I was confident that I had practiced sufficiently and could keep the momentum.
I love spending time in my kitchen. It gives me a feeling of inner peace and accomplishment. I think creating new recipes was the easiest part for me. That's exactly what I've been doing almost every day for the past couple of years, except for the writing and measuring part. 😉 That took some practice and discipline, but now I always have a scale, measuring cups, and a notebook close by. So far I've managed to post a new recipe on the blog almost every week, which is something I'm happy about.
The most challenging part was the food photography. My husband is a hobby photographer and takes nice pictures when he's in the right mood, however, food photography is much different to landscape, travel, or people photography. It took us several attempts to finally get accepted by some of the websites that feature high-quality food pictures, and a lot of our pictures are still being rejected. Initially we were upset, but then we realized this wasn't too bad because it gave us the opportunity to improve and we have learned a lot over the past couple of weeks. Most of my cooking happens in the evenings and serving time is usually when it's almost dark outside and no natural light is available. That leaves us with underexposed pictures and low lighting. My husband started researching lighting options and bought a professional daylight set for our shootings. I personally prefer shooting in real daylight and, when possible, I photograph my recipes in natural light. Besides just the light, we have also improved the composition and arrangement of items in the picture. We've invested in a few nice props like slate serving trays and high-quality napkins and also started adding a few pieces of ingredients, garnish, silverware or similar to the scene.
A big Thank You!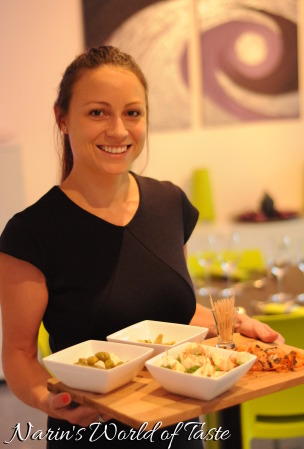 Now is also the time to say a special "Thank You" to my husband and my three children. They are the best support I could ever think of. I'm in the awesome position of not having to work so I can fully concentrate on raising my children. However, after almost 7 years as a full-time mother and wife, I thought it was time for another meaningful activity besides being the good spirit around the house for my family. Spending time on something else must have been a new challenge for the children, but they learned quickly that mummy can't constantly be available when she's working on new recipes for her blog. Even though I try and do most of it while they're at school, kindergarden or at the chrèche, they simply have to wait occasionally until I've finished with a new blog entry or cooking a new dish before they get my attention again. I'm very thankful for my children's patience. Now they even start trying to help me and our little one is copying me with his play dishes and play food. He arranges them nicely on the table or at places where I take the pictures. Ayla has also started to arrange her plates nicely and then she asks me to take a picture.
My husband also plays a big role in enabling me to do all this. He supports me all the time. Even when he is very busy at work, he will try and find a moment to help me when I'm stuck with something. He's the CTO, as in "chief tasting officer", and also the techie behind the blog. He approves and proofreads every single post before it goes online! Thank you Attila for being so supportive, I love you from the bottom of my heart.
Last but not least, I want to say a big "Thanks" to all my followers! I was sometimes close to giving up but with any nice comment or "Like" I knew why I'm putting all the effort into this. Thank you soo… much for your support! I really appreciate it and I hope I can continue to share my passion for healthy food and cooking with you!
Lots of love, Melanie…
Categories: Other
2 comments