With Christmas and New Year around the corner, I would like to share some ideas on how to host a successful dinner party at home for any festive occasion. As the host, you of course want to make sure that everyone enjoys the food and drinks, but more importantly, you also want to be able to enjoy the company and be part of it without having to spend the entire evening in the kitchen preparing food, serving food, and cleaning up. Here are five steps that I follow when preparing a dinner party for about 10-12 people.
1. Occasion and Theme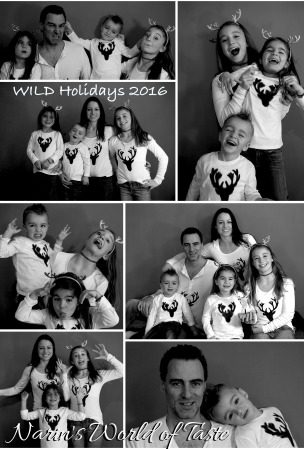 Think about the occasion for your dinner party. Here is a specific example: inviting the larger family (~12 people) for Christmas. Occasion found! Now, how about my theme? I'm all about seasonal and local food at the moment, so why not to choose "wild" as a theme. "Wild" doesn't mean "crazy" here, but wild ingredients straight from nature. I liked this theme because you can get very creative with it. So now we found both the occasion and the theme: a Wild Christmas Dinner.
2. Invitations
If you send written invitations, either electronically or on paper, it's a nice idea to pick a card or picture which matches the theme. For example, for the "wild" theme, you could print the head of a deer on the card or look for cards with pictures of wild animals, forest, nature, or whatever else comes to your mind when you think about the theme. If you have the time and energy, you could even create a holiday card with pictures of you and/or the family and elements of the theme. That's what we did this year. For our holiday card, we put on white shirts with deer heads. 😉
When inviting people, don't forget to ask about any food intolerances or anything somebody might not eat. That way you can plan accordingly.
3. The Menu
When choosing the menu, it's helpful to keep several things in mind. First and foremost, of course, think about the dishes that you'd like to serve and that would fit the theme. However, there are some other things to keep in mind when you plan the evening. It's important to think about the timing and the logistics as well. Here are some best practices that I follow:
It's best to have a mix of dishes that you can prepare ahead of time, for example, 1-2 days before. In the menu below, you can prepare the starter and the dessert the day before, and even some parts of the main dish. Doing this will maximize the time that you can spend with your guests and minimize any time in the kitchen on the day itself.
Prepare a shopping list about a week before the event with all the ingredients you need for your menu. I divide the list into food/ingredients I can buy a couple of days ahead, and food/ingredients that I have to buy fresh either on the day of the dinner or the day before. Also, don't forget to buy the drinks ahead of time so that you can cool any champagne or white wine appropriately.
Think about the capacity of your fridge and plan accordingly. During the cold season, you might be able to use your terrace or balcony to keep food cold as well.
In most cases at our home, the evening starts with a Champagne reception after guests have arrived. To accompany the Champagne, I like serving small appetizers, for example, the Mango & Herb Salad with Grilled Chilli Sesame Prawns. This is a nice appetizer and first bite for your guests to enjoy, and very importantly, this keeps them entertained while you can prepare the first course.
The menu that I have created this year for the given theme is the following:
Wild Christmas Menu
Starter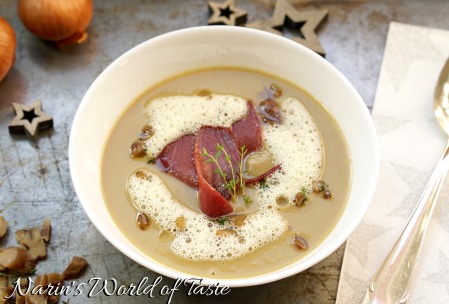 Main Course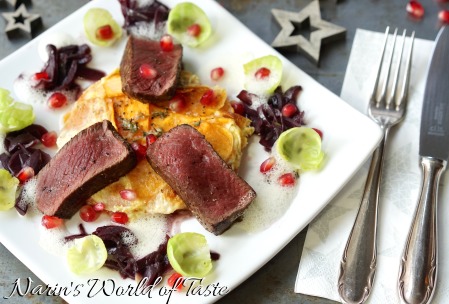 Dessert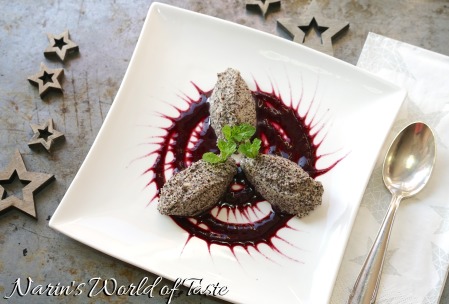 4. Table Setting and Decoration
A few days before the dinner party, think about how you'd like to set up the table and how you'd like to decorate it. Think about which silverware, glasses, dishes, and serving plates you need for each course and guest. Do you have enough for everyone who is coming? If you're missing anything, you'll still have time to get it organized by buying or borrowing something. The style of decoration is very subjective and a lot is up to you. Personally, I prefer a classic setting where "less is more". For decoration, you can consider candles, glasses, napkins, and many other things. For additional color, you can of course use flower arrangements, but also more unusual items like colored salt, a mix of sea salt with natural food coloring.
5. Before and During the Party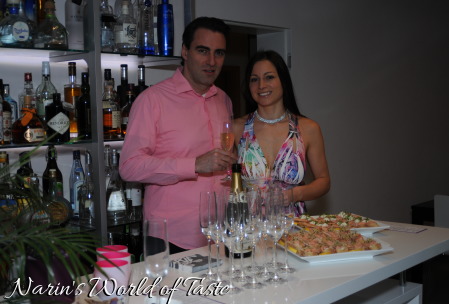 Prepare as much as you can before the guests arrive. This for sure should include the setup of the table. I typically do this in the morning of the day of the dinner party. Around that time, also any Champagne, white wine, or anything else that needs cooling should be in the fridge. In the kitchen, make sure you set up anything that you need for serving, including serving plates, utensils, etc. That way everything is easy to reach and ready to go. One of my favorite tools is a plate heater, and I typically already place the plates needed for the main course into it. That way I can switch it on 30 minutes before serving and don't have to worry about the food getting too cold while arranging it nicely on heated plates. As one of the last steps before the guests arrive, prepare the appetizer(s) that you want to serve during the Champagne reception. As a final hint, don't be shy to enlist the help of some of the guests. Typically everyone is happy to help, but might not know how to best do so. Ask for volunteers to help bring out the served plates or to clear the table.
Following the above steps will help you host a successful dinner party that you can enjoy with your guests without having to be in the kitchen all evening.
Enjoy, Melanie…
Categories: Other