In this recipe I combined the fruity, citrusy, and herbal taste of the salad with the fresh spicy flavor of the prawns. This creates a mouthwatering flavor of "Summer Time" which you can enjoy when sitting outside and when friends are over. A couple of days ago we got a good taste of summer, which inspired me to create this recipe. Hopefully summer will be back soon after too many cold and rainy weeks in Luxembourg recently. Serving this appetizer in spoons or on small plates or glasses makes this a casual, light, and enjoyable experience.
You need the following ingredients (which makes 12 appetizer spoons, which can serve 4, 6, or 12):
12 prawns (frozen, uncooked, with shell)
1 mango
2 – 3 small spring onion stalks
5 – 6 big Moroccan mint leaves
2 tbsp chopped parsley leaves
2 tbsp chopped coriander leaves
2 tbsp chopped Greek basil leaves
zest and juice of 1/2 organic lemon
1 tbsp white balsamic vinegar
1 tbsp good quality olive oil
1 red chilli
1 tbsp black sesame seeds
1 tbsp sesame oil
salt & pepper to taste
Note: I always try to buy organic ingredients ideally seasonal and local. In this recipe, I used most of the ingredients from Delhaize Luxembourg. They offer a great variety of organic and local ingredients.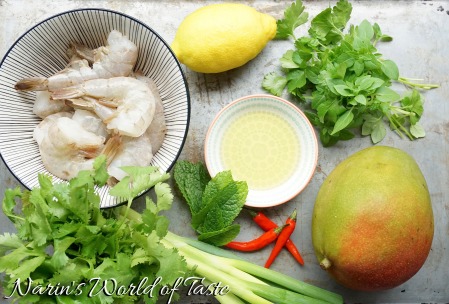 If you use frozen prawns, defrost them before you start cooking. This takes about 2 hours if you leave them outside at room temperature. Wash the herbs, spring onions, chilli, and lemon.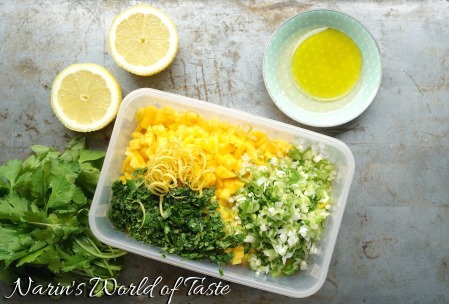 For the Mango & Herb Salad:
Peel the mango and cut the yellow flesh into very small cubes. Chop the herbs and spring onions very thinly. Zest half a lemon and add all the ingredients into a Tupperware or bowl. Season with the juice of half a lemon and 1 tbsp white balsamic vinegar and 1 tbsp olive oil. Combine everything thoroughly and store in the fridge until serving.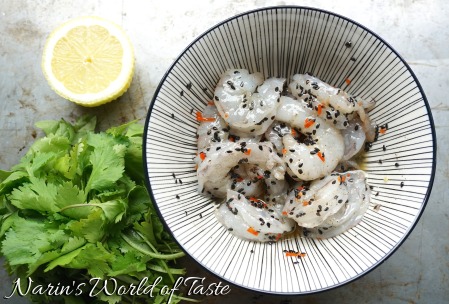 For the Grilled Chilli Sesame Prawns:
Peel the prawns (must be defrosted if they were frozen) and rinse them under cold water. If they still have the black intestines, remove them before rinsing by cutting the prawns lengthwise on the back and pulling out the intestines. Cut the chilli open, remove the seeds and discard them, and then chop the chilli very thinly. Using a Tupperware or bowl, combine the prawns, chopped chilli, sesame seeds, and sesame oil. Season with salt and pepper and store in the fridge until later.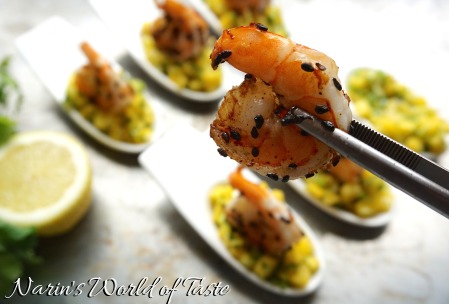 Before serving, heat a grilling pan and grill the prawns on each side for about 2 minutes. You can do this also on your grill or barbecue outside.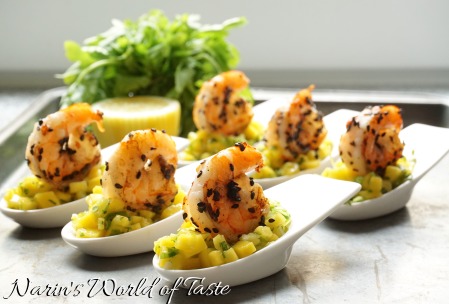 Serving: If you have appetizer spoons, this is a great opportunity to use them. Otherwise you can also serve the dish on small plates or in small glasses. Add about 1 tbsp of the salad on each appetizer spoon and place one grilled prawn on top. I used tweezer tongs, which will help you place the prawns more accurately and neatly on top of the salad.
Enjoy, Melanie…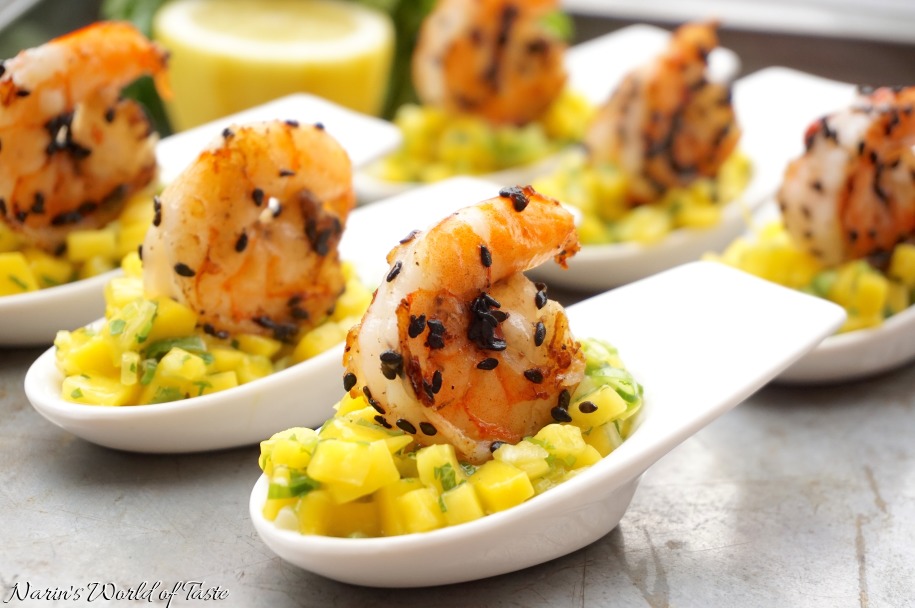 Categories: Starters, World of Recipes