Energy balls are healthy small bites packed with highly nutritious ingredients. They are one of the food trends of 2017. With only five ingredients I created a very easy, quick to prepare, and super delicious version of a Raffaello-style energy ball,  a perfect Valentine's treat for you and your loved one. This is also a great example of a healthy dessert and will help those of us who made a New Year's resolution of a healthier lifestyle. I'm using almond and coconut, rich in healthy fat, fiber, magnesium, and vitamin E, and organic honey as a sweetener. Did you know that honey has antibacterial properties? That's why honey is often called a natural antibiotic. We've never been using a lot of refined sugar in our house, but after starting my blog about two years ago, I cut out refined sugar completely. It feels great to eat healthy desserts.
You need the following ingredients: (~15 balls)
100 g / 1/2 cup almond flour
150 g / 3/4 cup unsweetened shredded coconut (+ extra for dusting)
4 tbsp coconut oil
3 tbsp organic honey
15 blanched whole almonds
In this recipe, I used most of the ingredients from Delhaize Luxembourg. They offer a variety of products for the health-conscious and have introduced labelling to make them easy to spot. Just look out for the "EXTRA" label and the small heart. The nutritional information has the advantage of the product highlighted, which might be reduced salt, sugar, or fat; natural occurrences of vitamins, fibers and minerals; or healthy additions/substitutions. For example, almond flour has over 10 g of fiber per 100 g.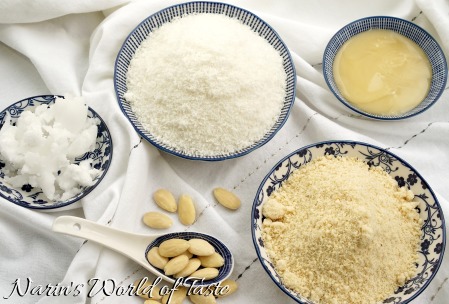 Measure all ingredients. If the coconut oil is not liquid, heat it gently to melt it.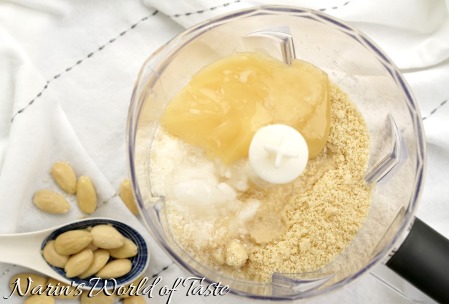 Add all ingredients except the blanched white almonds to a food processor and pulse until everything is well combined.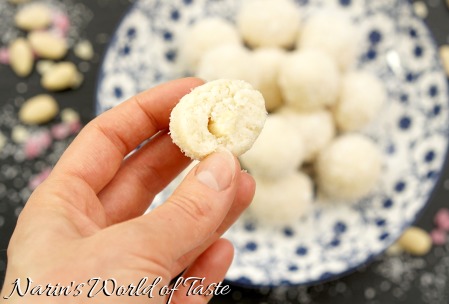 Form about 15 balls using your hands and place one blanched white almond in the middle of each ball. Then cover the balls with shredded coconut. To do so, I placed the shredded coconut into a bowl and rolled each ball through it until completely covered.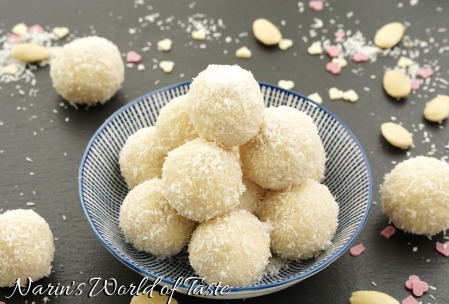 You can store the Almond and Coconut Balls for up to a week in the fridge. Take them out about 15-20 minutes before serving so that they warm up to room temperature.
Enjoy, Melanie…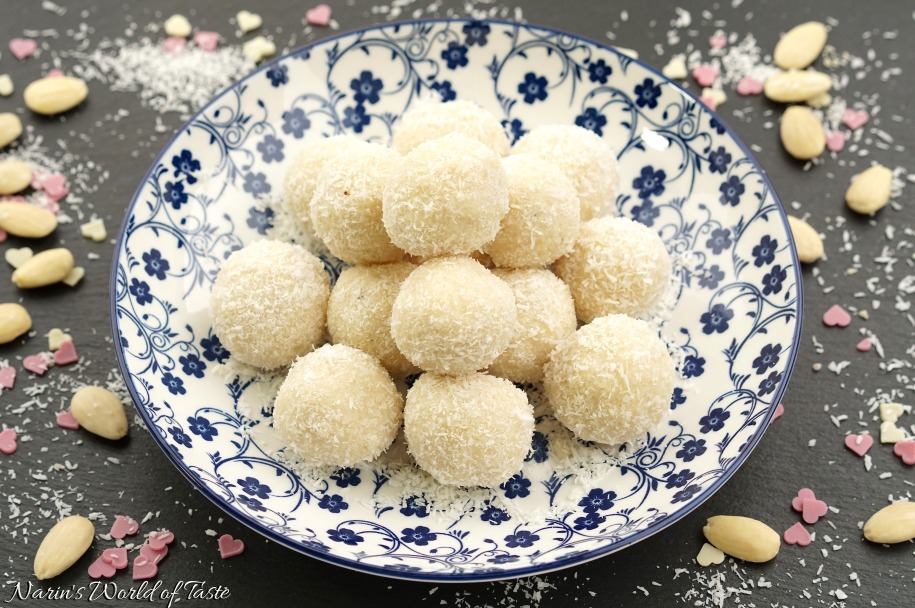 Categories: Desserts, World of Recipes
2 comments