Have you ever heard of salicornia? Salicornia is a nutritious sea vegetable, also called sea beans or sea asparagus. It is a plant that grows in salty soil in shallow water along the shore. Its taste is crisp and crunchy with an intensely salty flavor. It's high in protein and also a good source of vitamin A, calcium, and iron. You can eat it raw in a salad, steamed, or stir fried, like in my recipe. Make sure to not add extra salt when cooking with salicornia as it's salty enough. Here I used coconut aminos instead of soy sauce to avoid making it too salty.
You need the following ingredients:
250 g / 9 oz salicornia
1 red chili pepper
2 garlic cloves
2-3 cm / 1 inch ginger root
2 spring onions (white and green part)
1 tbsp sesame oil
1 tbsp coconut amino
1/2 tsp fish sauce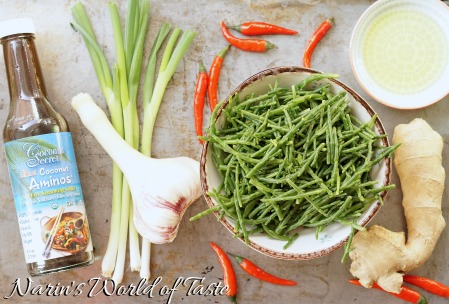 Wash the salicornia, spring onions, and red chili pepper. Peel the garlic cloves and ginger root.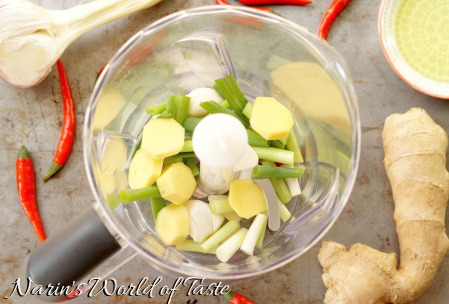 In a food processor, blend the red chili pepper, ginger, garlic, and spring onions until you end up with small pieces.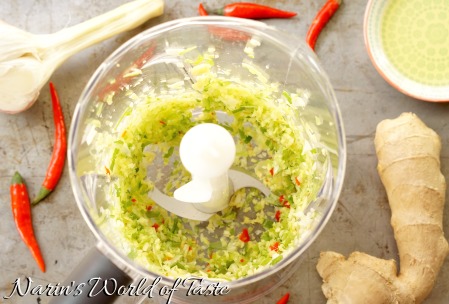 Don't over pulse, else you will end up with a mushy consistency.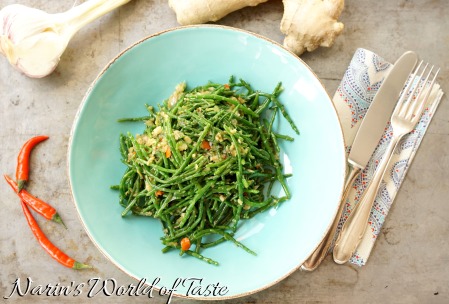 In a medium size pan or wok, heat the sesame oil over high heat. Add the mixture from the blender and let it sizzle for a minute. Then add the salicornia. Combine everything thoroughly, stir fry for about 2-3 minutes, then turn off the heat. Season with coconut amino and fish sauce to taste. Serve immediately in a nice serving dish. This goes really well with any kind of seafood, especially pan seared fish.
Enjoy, Melanie…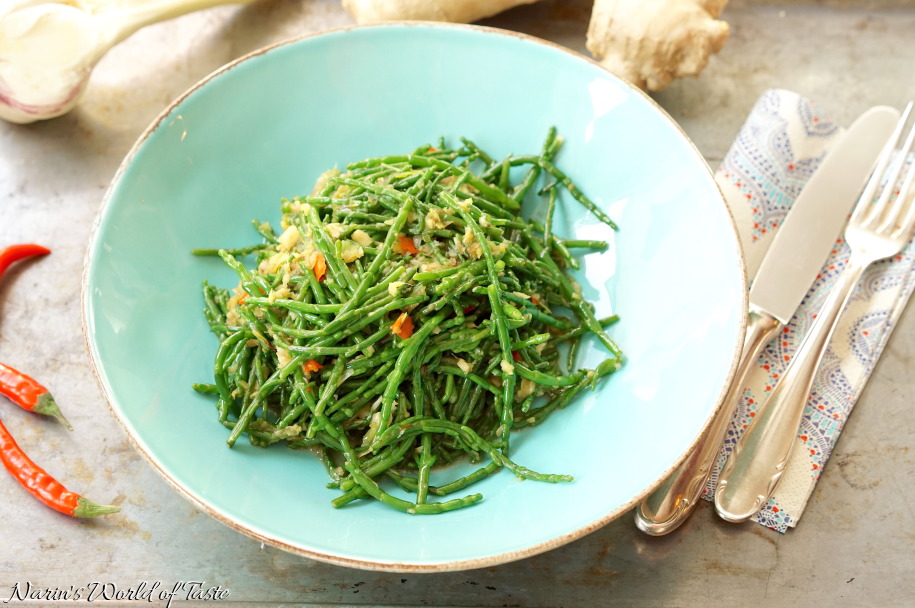 Categories: Side Dishes, World of Recipes