In this recipe I created a highly nutritious sports lunch for two, combining sweet and savory ingredients from Brazil, the host country of the 2016 Olympics. While it's important for anyone to eat well in order to stay fit and healthy, it's especially important to fuel your body with the right nutrition when competing or being very active.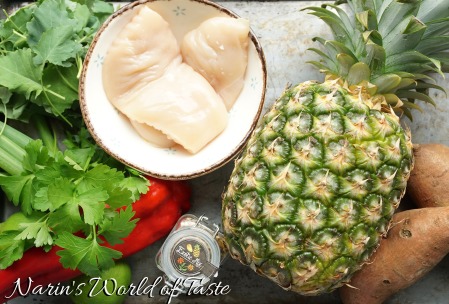 You need the following ingredients: (serves 2)
1/3 of a pineapple
2 organic chicken breasts (~300 g/ ~10 oz)
2 sweet potatoes
1 bag baby kale (~45 g/ ~1.5 oz)
1 red bell pepper
1 lime (for zest and juice)
2 tbsp spring onions (the green part)
2 tbsp parsley
2 tbsp brown sugar
3 tbsp coconut oil
2 tbsp Exotic Spice Mix (see what your local supermarket has to offer; the one I'm using here includes various spices, including also dried mango, pineapple, etc)
salt and pepper to taste
Note: I always try to buy organic ingredients, ideally seasonal and local. In this recipe, I used most of the ingredients from Delhaize Luxembourg. They offer a variety of organic and local ingredients.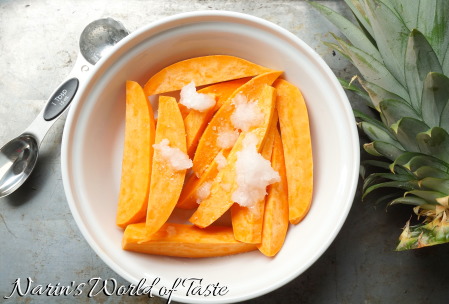 Preheat the oven to 200 °C (390 °F). Peel the sweet potatoes, cut them in half, and then each half into 3-4 finger-sized chunks. Add them into an oven dish and mix with 1 tbsp of coconut oil and 1 tsp salt. Bake in the oven for about 20-25 minutes.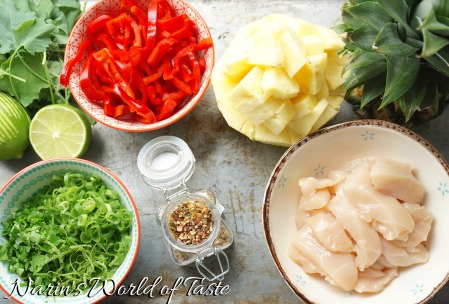 Meanwhile, wash the chicken, spring onions, parsley, baby kale, red pepper, and limes. Dry the chicken breast with paper towels and slice it into about 1,5 cm / 0.5 inch stripes. Cut the skin off the pineapple and slice one third of it into small cubes. Cut the red pepper in half, remove the seeds and white parts, and slice it into thin stripes. Chop the green part of the spring onion and the parsley very thinly (optionally, keep 4 nice parsley leaves to decorate the dish when serving). Zest the lime, then juice it. Lastly and optionally, cut the stems off the baby kale. In the picture I kept the stems, but my husband complained about it.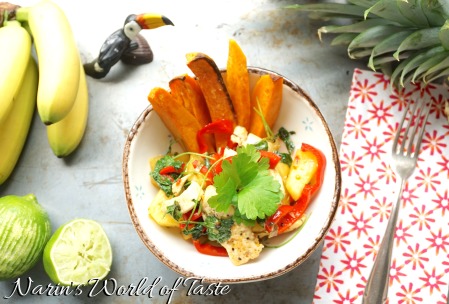 Heat a frying pan or wok with 1 tbsp coconut oil. When the coconut oil is hot, add 2 tbsp brown sugar and caramelize the pineapple until it becomes a nice color and softens. Remove the caramelized pineapple from the pan and set aside until later. Heat the frying pan or wok again with 1 tbsp coconut oil. Add the chicken, fry it on each side until nicely brown. Then add 2 tbsp of the Exotic Spice Mix and about 1 tsp salt and combine thoroughly. Pour in the red pepper, parsley, lime zest, spring onions and let cook for a few minutes until the red pepper starts to soften. Add the pineapple and a tbsp of lime juice, stir, and let everything simmer for another minute. Just before serving, add the baby kale and combine thoroughly. Serve immediately with the sweet potato fries on the side. Optionally, decorate with some parsley leaves.
Enjoy, Melanie…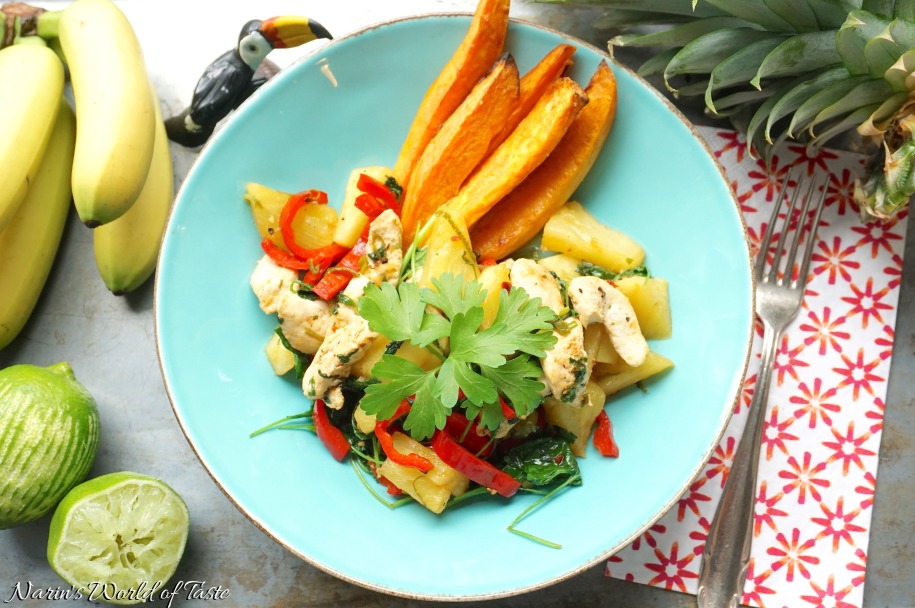 Categories: Main Dishes, World of Recipes
1 comment