In this recipe I combined the nutty flavor of buckwheat with a hint of spicy curry, creating a delicious tortilla. You can also use them as a savory pancake or in place of pasta sheets when making lasagne.
Initially I came across buckwheat a bit by accident. I bought it thinking I was buying spelt flour, but then noticed the difference when preparing pancakes for the kids. After reading more about buckwheat, I learned more about its super food properties. Buckwheat is not a grain, it's a seed of a plant, and the plant belongs to the same family as rhubarb and sorrel. It contains high quality proteins, better digestible carbohydrates, antioxidants, minerals, and vitamins. In other words, buckwheat is a healthier option for wheat or grains. If you eat healthy and listen to your body, you will recognize how your body feels after consuming certain kinds of food, even if you don't outright suffer from any intolerances.
You need the following ingredients: ~ 8 tortillas
240 g / 8 1/2 oz buckwheat flour
2 organic eggs
180 ml / 1 1/2 cups water
1/2 tsp salt
1/2 tsp curry powder
coconut oil or ghee for frying
Note: I always try to buy organic ingredients, ideally seasonal and local. In this recipe, I used most of the ingredients from Delhaize Luxembourg. They offer a variety of organic and local ingredients.
Measure and pour all ingredients into a bowl and puree everything thoroughly with a hand blender. You can also use a normal blender if you don't have a hand blender.
It should look as follows: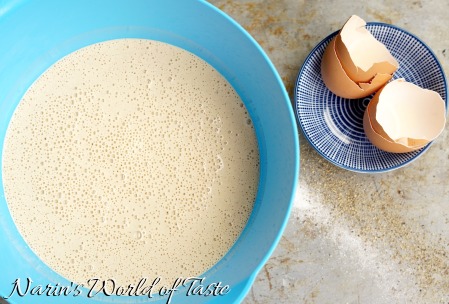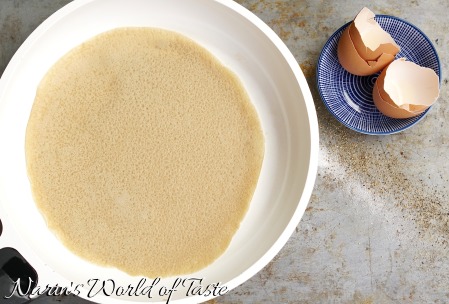 Heat a frying pan over medium heat. Once the pan is hot, add a thin layer of the mixture to your pan. The best way to do this is by swirling the pan to create an even and thin tortilla. Fry the tortilla from each side for about one minute. You can also use a little bit of coconut oil or ghee for frying.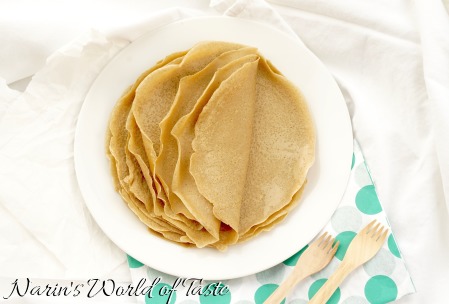 Once the buckwheat curry tortillas are ready you can serve them cold as a wrap or hot as a savory pancake with your favorite filling. For example, see my recipe for Salmon, Avocado, & Spinach Wrap. You can store the tortillas covered with clingfilm in your fridge for about 2-3 days, or you can also freeze them. I always put wax paper in between to prevent them from sticking together.
Enjoy, Melanie…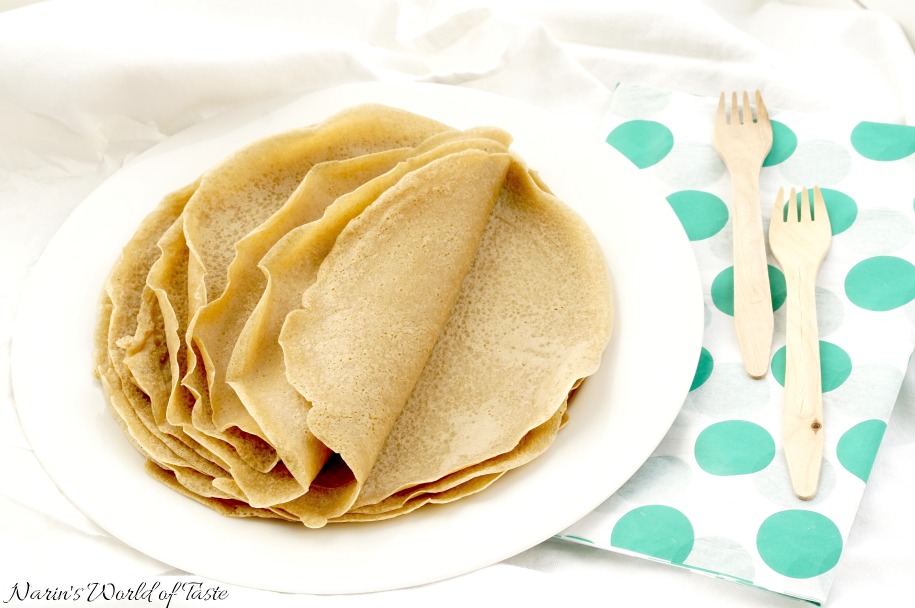 Categories: World of Recipes, Wraps, Pancakes, and Breads