Over the holidays, people usually tend to eat way too much, and they have a good excuse because it's time to celebrate. Recent weeks were filled with nice moments and a lot of great food, but instead of feeling refreshed for the new year, we feel full and heavy. We decided to clean our body and to reduce our daily calorie intake. In the following recipe I used ginger root to boost your immune system and carrots and sweet potato because both are high in beta carotene, which helps raise the Vitamin A level in our blood. This soup is also completely vegan.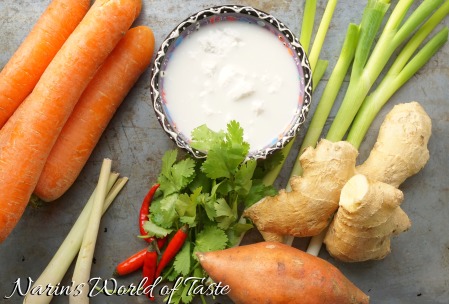 You need the following ingredients: (serves 6-8)
500 g / 1.1 pounds carrots
1 medium size sweet potato or regular potatoes (~ 150 g / 1/3 pound)
1 cup organic coconut milk (~ 400 ml / 1 3/4 cups)
3 spring onion stalks
40 g / 1 1/2 oz ginger root, 5 – 6 cm (about 2.5 inches)
2 lemongrass stalks
2 chilis (deseeded chopped or whole)
2 tbsp chopped cilantro
2 tbsp sesame oil
salt and pepper (to taste)
960 ml / 4 cups water or Homemade Vegetable Broth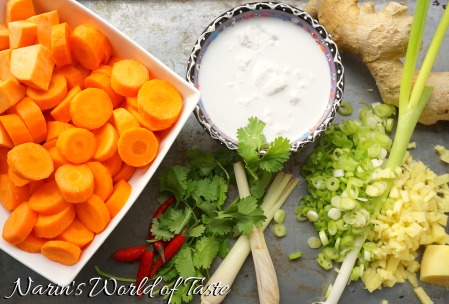 Start by peeling the sweet potato and carrots and cut them into small pieces. You don't have to be super accurate, you will puree the soup at the end. Then wash the spring onions and cilantro and chop them thinly. Peel the ginger (the most efficient way is to use a teaspoon instead of a knife), and then chop about 5 – 6 cm (about 2.5 inches) of its root. Crack the lemongrass to release its flavor (beat it lightly with a kitchen hammer or crush it gently with the blade of your knife).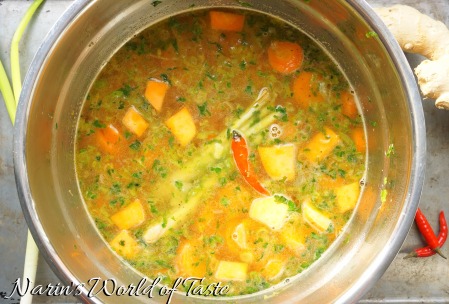 Add the sesame oil to a medium or large pot and sauté the chopped carrots, sweet potato, spring onion, cilantro, and ginger for a few minutes. Then add the chopped or whole chilis (depending on how spicy you like it), the lemon grass, water or vegetable stock, and some salt and pepper. Bring it to a boil and then reduce the heat and simmer the soup for about 30 minutes or until the carrots and sweet potatoes are cooked all the way through. Once cooked, remove the lemon grass stalks and chili (if you prefer) and add the coconut milk. Then puree the soup until it's silky and smooth. Season with salt and pepper to taste.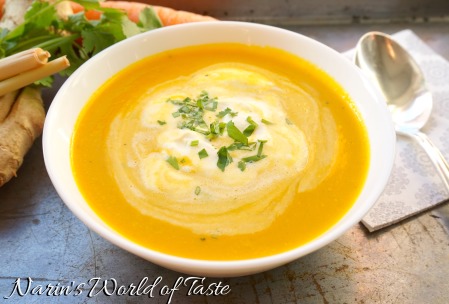 Serve the soup hot in a nice bowl and garnish it with some whipped coconut cream (I prepare it with my hand blender) and chopped cilantro on top.
Enjoy, Melanie…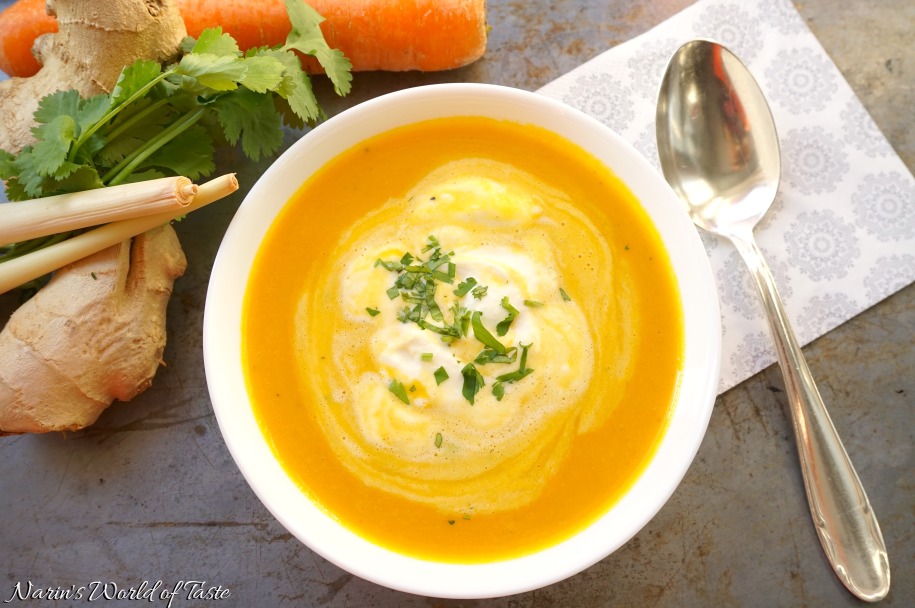 Categories: Soups, World of Recipes
1 comment