This powerful salad contains lots of Vitamin C and detoxing ingredients such as fennel and blood oranges. Fennel is not only used as a breath freshener, it also has many health promoting properties. The blood oranges contain red pigments that have amazing antioxidant properties. With this salad, you will definitely boost your immune system and help detox your body.
You need the following ingredients: (serves about 2)
For the salad:
1 bag arugula (~ 100 g/ 3.5 oz)
1 bulb fennel (~ 400 g/ 14 oz)
1 handful snow peas (~ 100 g/ 3.5 oz)
3 blood oranges
7 – 10 cherry tomatoes
For the dressing:
2 tbsp white tahini
3 tbsp blood orange juice
1 tbsp apple or white balsamic vinegar
2 tbsp olive oil
juice of half a lemon
2 cm/ ~ 1 inch ginger root
1 tbsp cilantro
1/2 tsp salt and 1/2 tsp pepper (to taste)
1 tsp honey (optional)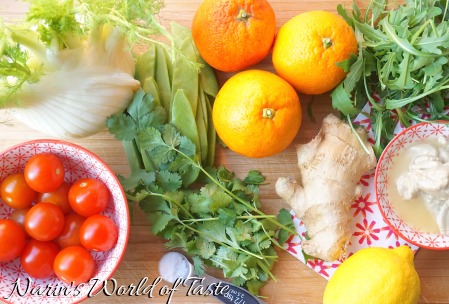 Clean the arugula and add it to a large salad dish or bowl.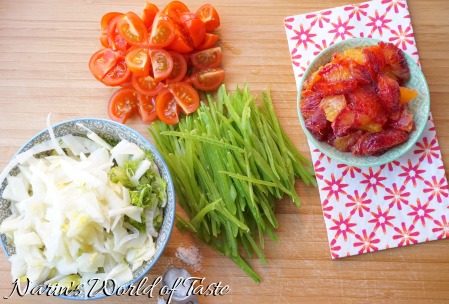 Wash the fennel, tomatoes, and snow peas. Remove the outer part from the fennel which might not be so nice. Then cut the fennel in half and slice it very thinly lengthwise. Slice the snow peas the same way. Cut the tomatoes into quarters. Use a small sharp knife to remove the zest and pith of the blood orange. Then cut the tender sections of the fruit out of the skin.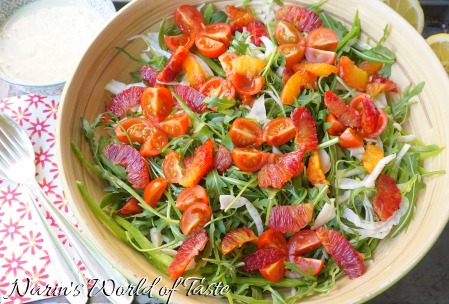 Now add the ingredients into the salad dish with the arugula, starting with the fennel and snow peas, and then the tomatoes and blood orange on top.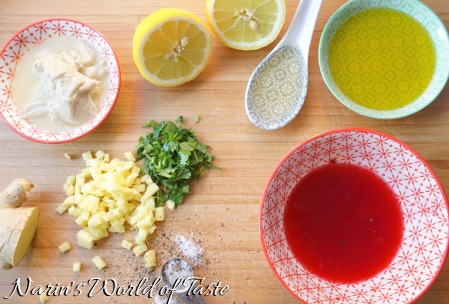 For the dressing, blend all ingredients in a blender until creamy.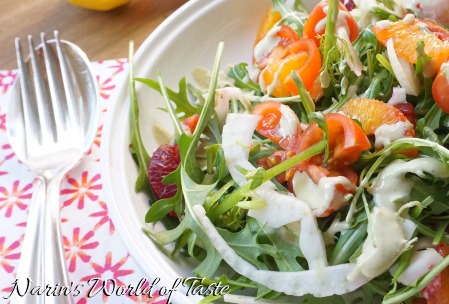 Serve the salad in a nice plate and pour some of the tahini dressing on top. You will be surprised, the flavourful salad, spicy arugula, herb fennel, and fruity blood orange in combination with the creamy fresh dressing is a taste explosion in your mouth.
Enjoy, Melanie…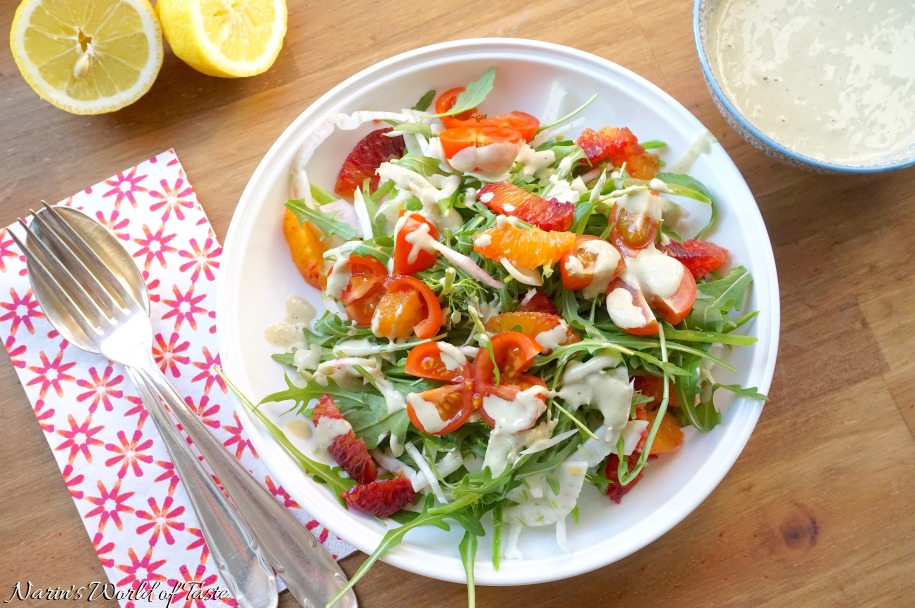 Categories: Salads, World of Recipes
1 comment