When thinking about Easter, I still have many childhood memories about Easter Sunday, the main celebration day. I liked how the family got together, and especially the moment when we kids were finally allowed to search for the chocolate eggs and presents the Easter bunny had hidden for us. I was reminded of this recently when I saw my kids nervously count down the days until Easter Sunday – I know exactly how it feels. With the following recipe, I tried to bring this same feeling of love and togetherness onto the plate. I prepared a trial dish recently for a Sunday family lunch, and I was really happy that everyone liked it a lot. While sitting together and talking about this new recipe, I got some great feedback from everyone, including my kids, with ideas for things to improve. For example, for the trial dish, I had added a little too much honey for the crust and it was a bit too sweet, which I then adjusted. The herbal and nutty flavor of the crust in combination with the lamb goes really well with my side dish Thyme & Garlic Baked Spiraled Potatoes.

You need the following ingredients: (serves 4)
600 g / 1,4 lbs lamb fillet or loin
12 carrots
12 broccolini
60 g / 1/2 cup hazelnuts
1 tsp herbs de Provence
1 tsp organic honey
2 tbsp mustard
salt & pepper (to taste)
Note: I always try to buy organic ingredients, ideally seasonal and local. In this recipe, I used most of the ingredients from Delhaize Luxembourg. They offer a variety of organic and local ingredients.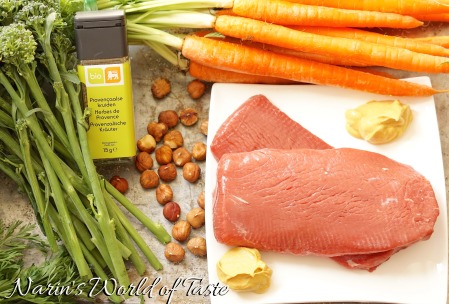 Preheat your oven to 200 °C / 390°F in broil mode.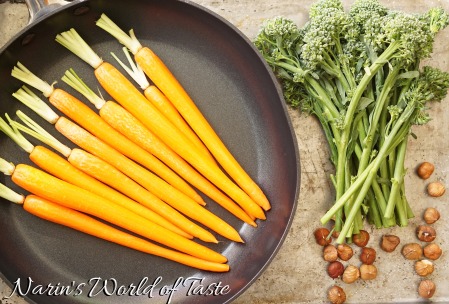 Cut off the green part of the carrots, leaving about 2-3 cm (~1 inch) of it's stem. Peel the carrots and cut off about 1 cm (~1/2 inch) of the broccolini. Once done, wash the broccolini and carrots thoroughly. If you have a steamer, you can steam the carrots and broccolini until al dente. I cooked the carrots about 10 minutes in a large pan with salted water and added the broccolini for the last 2 minutes. The lamb will also take approximately 10 minutes, so try and start both steps roughly at the same time so that they are both ready to serve at the same time.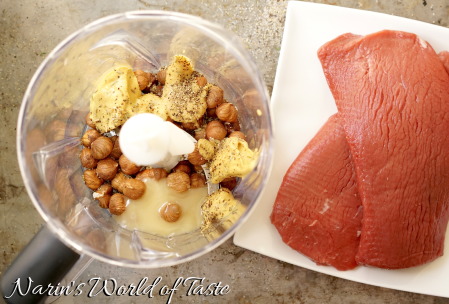 Meanwhile, using a food processor, mix the hazelnuts, mustard, honey, herbs, and salt & pepper until the hazelnuts are shredded into pieces and everything is combined thoroughly. To prepare the lamb, heat a grilling pan over high heat. Fry the lamb on each side for about 2 minutes. I don't like my lamb too rare, but if you prefer it less than medium, I would recommend frying it for 1 minute on each side. Place the lamb in a casserole and spread the herb crust evenly on top. Grill in the oven for 4 – 5 minutes until the crust is nicely brown on top.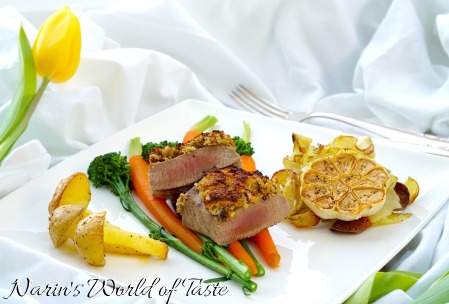 Serve immediately on nice plates beginning with the carrots and broccolini in the middle of the plate. Cut each lamb loin into four pieces and place two pieces on top of the vegetables. The plate here is shown with my recipe Thyme & Garlic Baked Spiraled Potatoes, which will go very nicely with the lamb.
Enjoy, Melanie…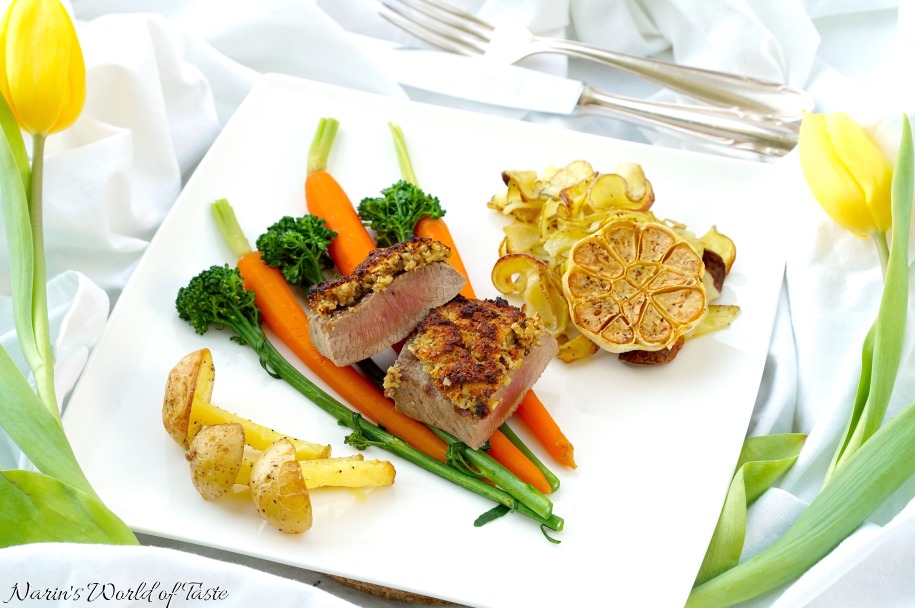 Categories: Main Dishes, World of Recipes