Following a healthy and well balanced diet with lots of veggies and good protein is often difficult even for us adults. So how about when it comes to our kids? As parents we are responsible to teach and inspire our kids to eat healthy, and of course, this is a lot of work. I often struggle, but the most important rule that I've set for myself is to never give up! After the long summer break the kids are back to school and fall has come. With this new start, I've also tried making changes in our family's eating habits and integrating those into our routine. During the holidays and while traveling, exceptions to the routine are unavoidable, which is absolutely normal.
With this article I'd like to show you some examples that have helped me convince my kids to eat lots of veggies and healthy.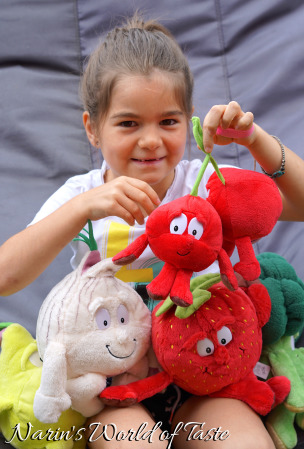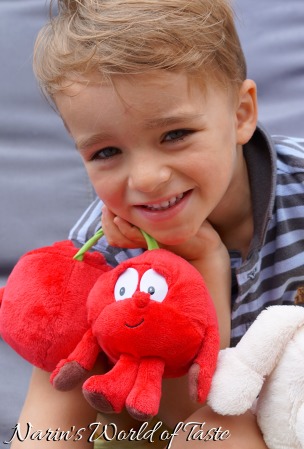 Based on my personal experience, kids love to eat healthy food if you make it interesting for them. The most important change that made a big difference was when I started to involve the kids in the preparation and serving process. With little tasks like cutting the tomatoes or cucumbers for their side salad or helping to season the fish or chicken, they will have a sense of achievement and will be happy and proud of themselves. Off course, this is based on their age, for example, my four year old is happy to help seasoning or stirring the food, while my six year old loves to cut things, and my thirteen year old often wants to prepare an entire meal by herself. You cannot start early enough to involve your kids!
I don't know if you know the feeling of somebody serving you food, and you actually preferring a bit less of one thing and maybe a bit more of something else. I love to serve myself whenever it is possible, and that's exactly what my kids prefer as well. During our first child-free vacation earlier this year, my husband and I got the opportunity to look behind the scenes of our wonderful resort. While visiting the staff's cantina, we saw the following phrase written in big letters on the wall, accompanied by some additional statistics of how much food is going to waste in that very cantina each day:
TAKE WHAT YOU EAT & EAT WHAT YOU TAKE!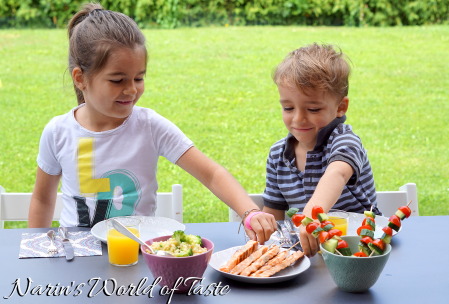 This phrase really resonated with us, and be having your kids serve themselves, you can already teach them about sustainability and not wasting food. I generally try to offer them at least two or three different kind of options per meal, like in the picture above, which is the meal that we cooked together for this article. Here they can choose how much they want to eat of each dish, and the expectation is that they should finish what they choose to take onto their plate. They can always take seconds.
In summary, here are some hints that can help increase your kids' daily veggie intake:
A wonderful way to make veggies interesting is to prepare them on skewers. Kids love to play, and with skewers they're able to eat their food in a playful way. You can be very creative with skewers, and not just with veggies. For example, you can use them for fish, chicken, meat, or fruits. Your kids will love it!
Listen to your kids' preferences and serve the veggies to their liking. For example, my daughter likes tomatoes and paprika raw, but not cooked. I'm sure you will encounter similar preferences as well :-).
Prepare stews, pasta sauces, or soups for your kids filled with veggies. This works extremely well because in most cases they won't recognize the veggies. For example, my bolognese sauce contains a lot more zucchini then meat. I simply shred the zucchinis very thinly with my food processor and add them, replacing part of the meat portion. You can also do this with carrots, onions, etc…
Also keep your eyes open around you community. In many cases, there are efforts under way that emphasize healthy eating for children. For instance, here in Luxembourg, one of the local super markets, Delhaize, offers a lovely project to inform and help family's to increase the daily intake of veggies and fruits. It's called Vitaminis and offers activities for kids, toys, games, recipes, informations about the different veggies, for example:
Enjoy, Melanie…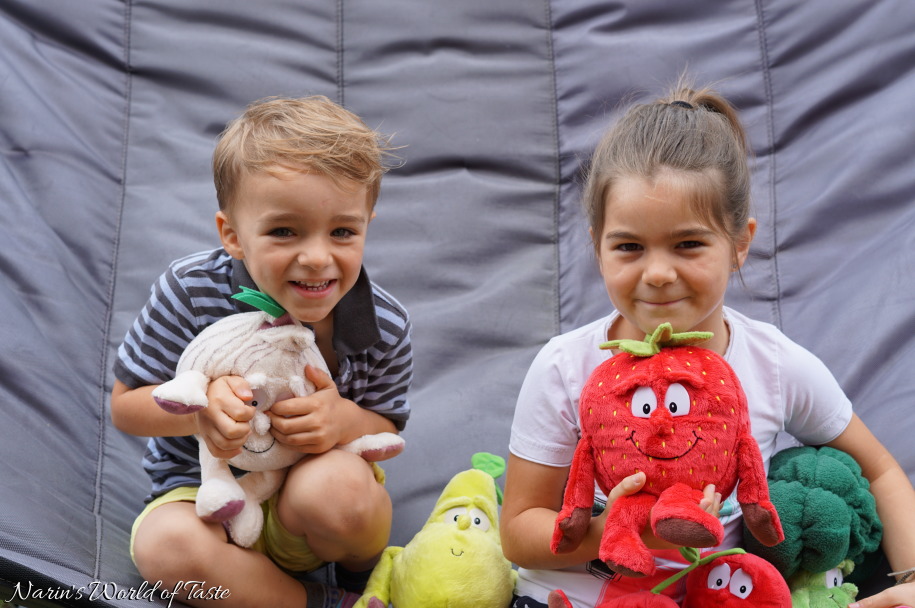 Categories: Other, World of Kids
1 comment