Preparing Tartare for a dinner party such as Christmas or New Year's Eve is a longtime tradition in our house. It's always a hit when serving it in small bowls together with a nice glass of champagne when welcoming dinner guests, or as a seated starter nicely plated. I have to get creative with the ingredients to surprise my guest over and over again. This time I combined the creamy avocado with the well balanced spiciness of the horseradish and the fresh mild flavor of the spring onions, which goes very well with the fresh salmon tartare.
You need the following ingredients: (serves about 4 as a starter, 8 – 10 as a smaller welcome appetizer)
500 g / 1.1 lbs sashimi quality salmon
2 avocados
2 stalks spring onions
juice of 1/2 a lime
2 tbsp horseradish (spicy)
120 g / 1/2 cup sour cream
1 tsp salt
pepper to taste
2 tbsp sesame oil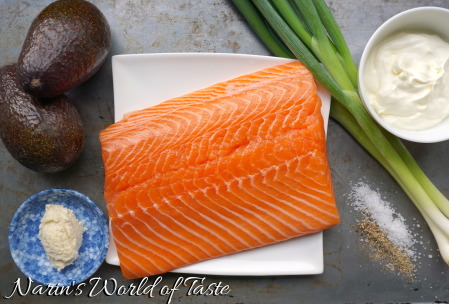 For the serving:
60 g / 1/4 cup sour cream
1/2 – 1 tbsp horseradish (to taste)
salt to taste
salmon roe
spring onion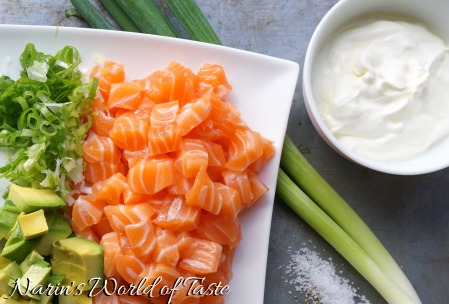 Cut the salmon into small cubes about ~1.5 cm / 1/2 inch in size. Wash the spring onions and chop them thinly.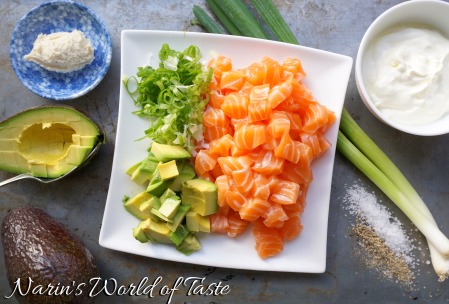 Cut the avocados in half, then remove cube sized pieces from each avocado half by cutting the inside in a grid shape and scooping it out carefully with a table spoon (see picture above).
In a Tupperware or bowl, combine all ingredients thoroughly. Season to taste with more salt, pepper, horseradish, or lemon juice if you prefer. This can be prepared in advance and stored in the fridge for a few hours before serving.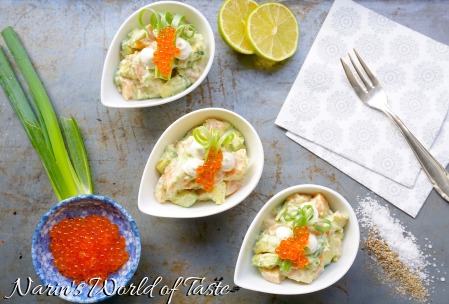 As a welcome appetizer, serve the tartare in small dishes (like the rain drop bowls in my picture), decorate with spring onion, sour cream sauce, and top with salmon roe.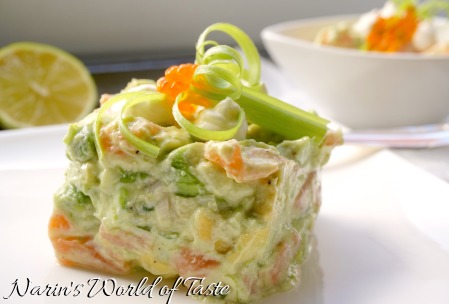 If you like to serve it as a seated starter, you can serve the tartare on nice plates with food serving rings and decorate it similarly.
Enjoy, Melanie…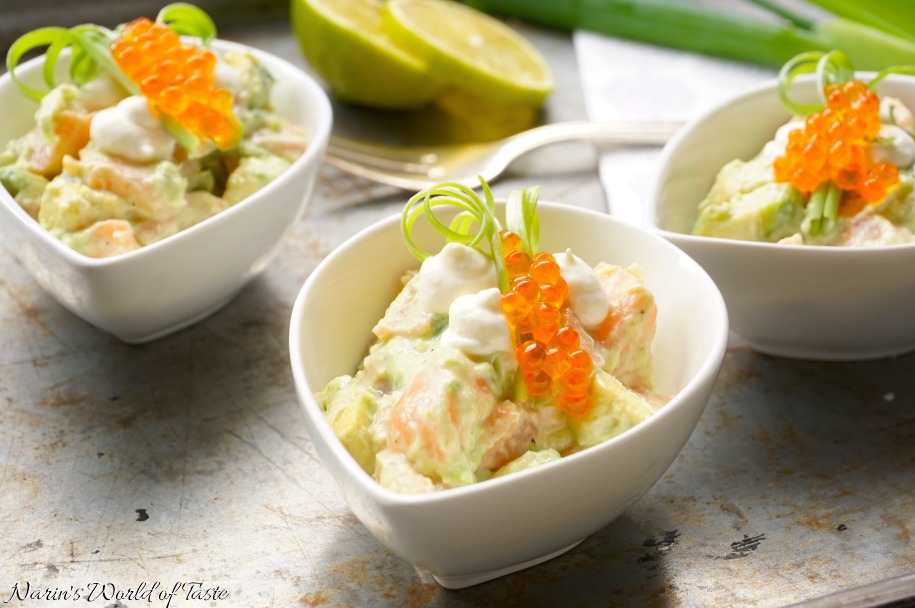 Categories: Starters, World of Recipes