We're currently traveling through sunny Florida, and I'm inspired by some of the local flavors and produce. Fresh avocados and mangos grow right here in people's backyards, and there is a good selection of fresh fish and seafood. This dish is my interpretation of a tropical Florida inspired dish with fresh fish, mango, avocados, key lime juice, and chilies.
You need the following ingredients: (serves 4 main or 8 starters)
800 g (~ 1 and 3/4 lbs) salmon fillet (sashimi quality)
1 mango
250 g (~ 9 oz) mozzarella cheese
2 avocados
250 g (~ 1/2 lbs) cucumber (about half a cucumber)
3 stalks of spring onions
1 lime (or 3-4 key limes, if you can find them easily)
2 tbsp sesame oil
3 tbsp soy sauce
2 red chilies (or depending on taste and availability, habanero chilies, hot mango pepper sauce, etc)
salt & pepper (to taste)
(optionally) chili threads to garnish
(optionally) balsamic glaze to garnish, can also be flavor infused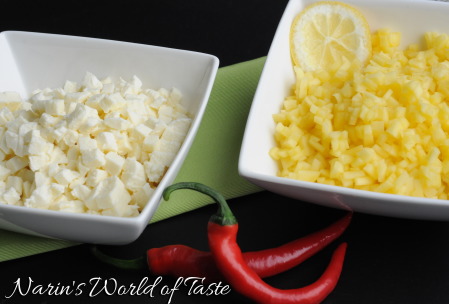 Start with peeling the mango and removing its pit. Then dice the mango into small cubes, place into a Tupperware or bowl, and place into the fridge. Do the same with the mozzarella cheese, using a separate Tupperware or bowl.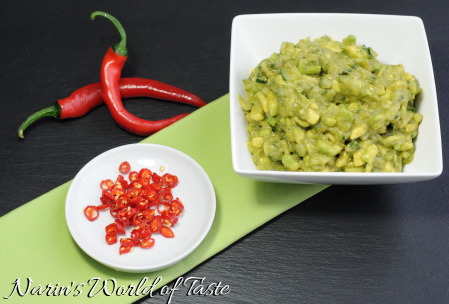 For the avocado tartare, you need to cube the avocado. The easiest way is to cut the avocado in half, remove the pit, and cut the soft inside length- and crosswise. Now, using a table spoon, scoop out the avocado, which will roughly come out in small cubes. Wash the cucumber, and depending on your preference, remove the peel and/or the seeds inside, then also cut into small cubes. Cut the spring onions into small rings. Combine the avocado, cucumber, and spring onions in a bowl or Tupperware. Season the tartar with the juice of the lime (or the key limes), 2 tbsp sesame oil, 3 tbsp soy sauce (we use the reduced salt one), and salt to taste. You can also add chilies to the tartare if you like it more spicy.
Heat a pan with sesame oil or coconut oil and fry the salmon fillets to your liking. I fry them on high heat for about 3 minutes on each side because we like the inside almost raw and glassy, with a nice crust on the outside. Season with salt and pepper to taste.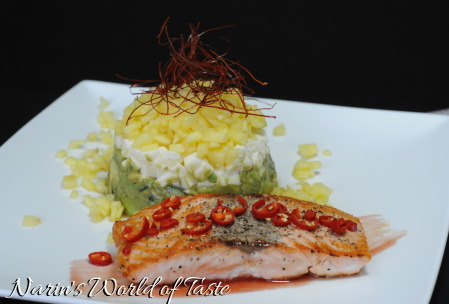 To serve, if you have food forming rings, you can use them now to stack the avocado-mozzarella-mango tower. Otherwise you can serve it in glasses or try to arrange it on a plate. Start with the avocado tartare, then the mozzarella, and the mango on top. Tip: You can also create a food forming ring yourself by carefully cutting the middle section out of a straight plastic bottle. Make sure the edges are straight and the section is about 6 cm (2.5 inch) tall.
If you have a favorite balsamic glaze, which can also be infused with additional flavors, you can brush a teaspoon onto the plate before placing the seared salmon on top. In the below picture, I used a hibiscus and chili infused balsamic glaze. Garnish with dried chili threads. Depending on how spicy you like it, serve with additional freshly cut chilies, which nicely combine with the fruity notes of the mango. Here in Florida we found a spicy mango pepper sauce, which also augments the dish nicely.
Enjoy, Melanie…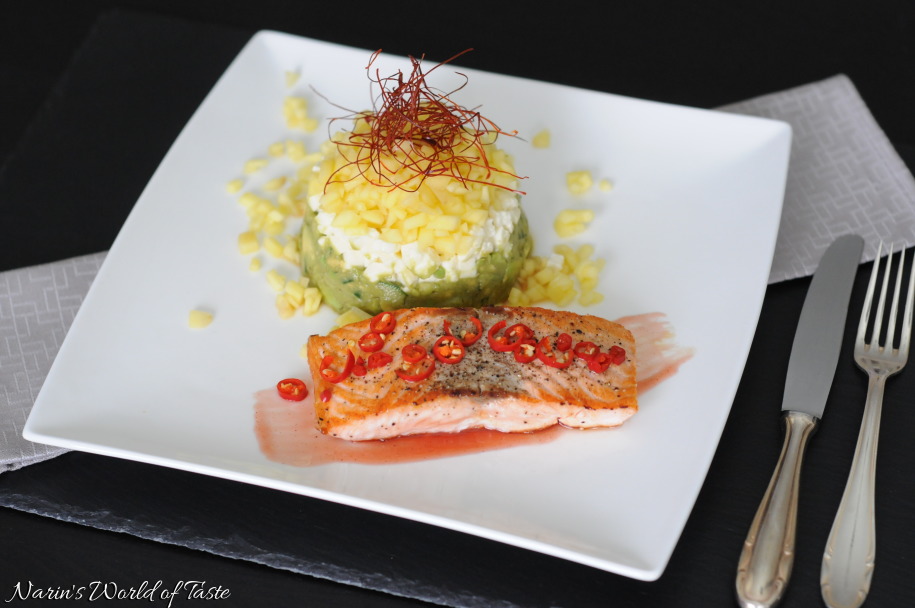 Categories: Main Dishes, World of Recipes