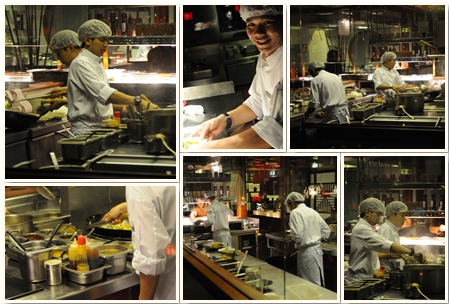 Spice Emporium is one of the best traditional Thai restaurants outside of Thailand that we have been to so far. Everytime we visit Dubai, it's on our to-do list, and we try to go there at least once. They have always impressed us with new delicious dishes, made in a very authentic way by chefs from Thailand.
---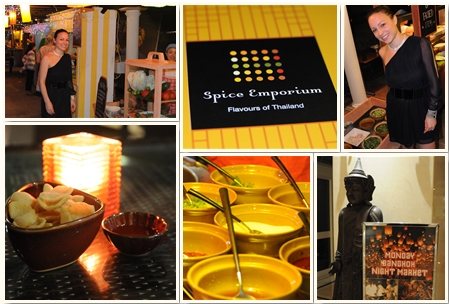 On Mondays, the Spice Emporium hosts an event called "Bangkok Night". Last time we arrived in Dubai on a Sunday, and directly booked a table at Spice Emporium for the same night. But then we got too tired after the short night in the plane and we moved our booking to Monday, without knowing that it would be "Bangkok Night". Already on Monday morning, the whole restaurant was busy setting up a beautiful scenery of a traditional Bangkok market with several food stands. Of course, I was curious about what was going on, and that's when I found out about the weekly event. I was looking forward to our evening 😉
---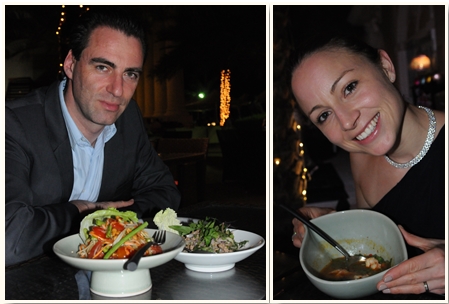 Melanie and Attila eating some of their favorite Thai dishes: "Tom Yum Goong" (spicy soup with prawns) for Melanie; "Som Tam" (green papaya salad) and "Laab Gai" (minced chicken salad) for Attila. All dishes are very well prepared at the Spice Emporium, with attention to detail, precisely cut and diced ingredients, and well balanced flavors. This represents the Thai way of eating, in a home-style way, made for sharing. Watch out though, when ordering spicy, they're happy to apply the Thai scale and make it very spicy.
---
Some food impressions:
---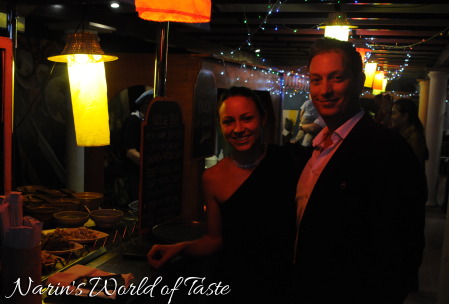 We're fortunate to have friends in many locations around the world. Any time we're traveling, we also try to see some of our friends, and we're very happy that we could share this dining experience with our good friend Nadim.
---
Address:
Spice Emporium, Flavours of Thailand – Authentic Thai Cuisine in Dubai
The Westin Dubai Mina Seyahi , Al Sufouh Road, Jumeirah Beach · PO Box 213084 · Dubai
United Arab Emirates
Phone: +971 (4) 511 7136
Fax: +971 (4) 399 9144
http://www.spiceemporiumdubai.com/
Categories: Dubai, World of Travel