This recipe is inspired by a very good friend of mine who came to our house one day with the most awesome vegan dark chocolate mousse. The fluffy texture was outstanding. Based on her recipe, I tried to create a white chocolate mousse. It took me a few tries until I got it right, but the following recipe is the perfect outcome. It's quick, easy, and very delicious!
You need the following ingredients:
For the White Chocolate Mousse:
200 g (~ 6.8 oz) white chocolate
150 ml (~ 5 oz) light soy cream ( I used the one from Alpro Soya)
250 ml (~ 8.5 oz) whipping soy cream (I used the one from Alpro Soya)
2 sheets of gelatin (or Agar Agar, Pectin)
For the Strawberry Ragout:
500 g (~ 1.1 lbs) fresh strawberries
1 tbsp chopped mint leaves
1 tbsp chopped basil leaves
juice and zest from 1/2 a organic lemon
2 cl (2/3 oz) Cointreau (optional)
(If you like the Strawberry Ragout sweet, you can add some sugar, xylitol, or honey to taste.)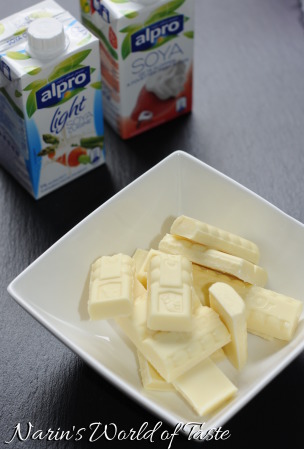 For the White Chocolate Mousse:
Soak the sheets of gelatin in a bowl with cold water for about 5 minutes. Break the white chocolate into pieces. Then heat the light soy cream in a pot and stir in the white chocolate pieces. Once the chocolate is completely melted, drain the soaked sheets of gelatin and add them into the chocolate and light soy cream mixture. Stir until everything is combined and dissolved. Then set aside to cool down a little bit.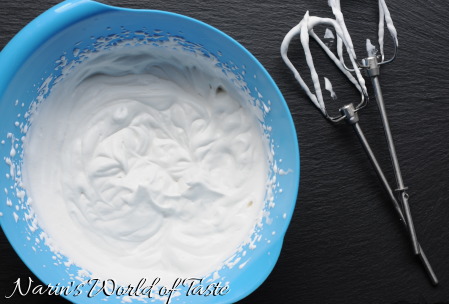 Whip the soy whipping cream with a hand mixer until stiff.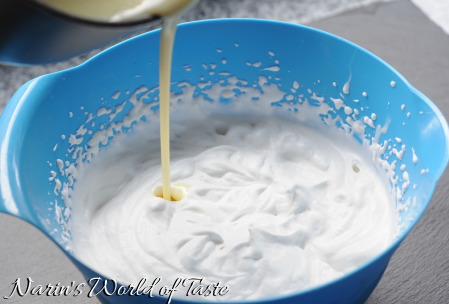 Add the lukewarm white chocolate cream into the whipped cream and combine everything thoroughly.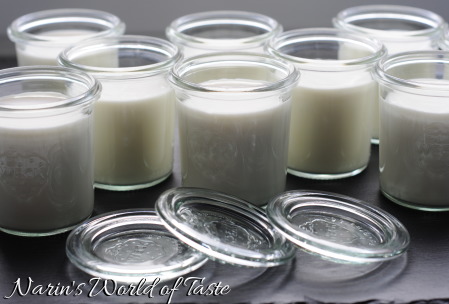 Pour the result into 10-12 glasses, jars, or other dishes. Their size should be about 140 ml or 7 oz each.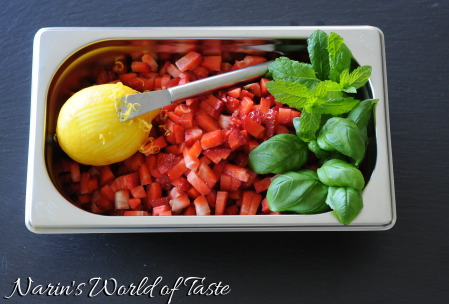 For the Strawberry Ragout:
Wash the strawberries and slice them into small cubes and pour them into a bowl or container. Wash the organic lemon and the herbs. Add the zest and juice of half a lemon to the strawberries. Chop the mint and basil leaves and add them as well. Before stirring everything thoroughly, you can optionally add Cointreau and/or sweeten to taste.  Refrigerate until serving.
To serve, optionally, blend or puree some of the strawberry ragout with a hand blender, and pour 1-2 tbsp on top of each mousse. Place the strawberry ragout into a small dish, or to be creative, you can use chocolate cups (like I did in the picture below). To finish, sprinkle the plate with white chocolate shreds.
Enjoy, Melanie…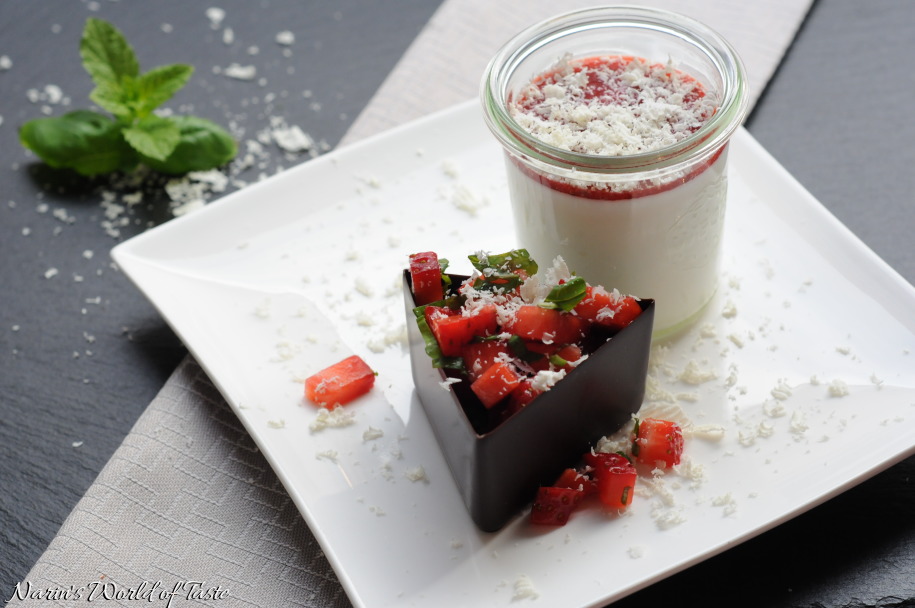 Categories: Desserts, World of Recipes
1 comment