This is a very nice breakfast recipe if you try to reduce carbs in your daily food plan, but like to eat savory food in the morning. We like to top the pancakes with cream cheese and salmon or sliced chicken, cheese and egg, but feel free to try out other toppings! I usually serve a side salad with them.
You need the following ingredients:
1 zucchini
3 eggs
3 tbsp chickpea flour
50 ml milk (whichever you like, I used lactose free cow milk)
1 tbsp cumin
salt, pepper & cayenne pepper as desired
This makes around 12 small pancakes (∅10cm).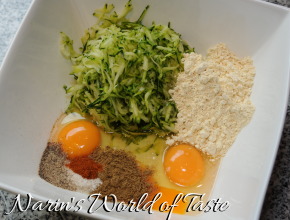 Mix all the ingredients together.
It should look as follows: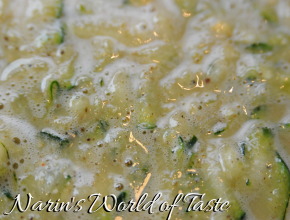 Then fry the pancakes with butter in a frying pan over medium heat. Instead of butter, you can also use coconut oil or ghee if you prefer. I usually make 3 small pancakes at a time in a ∅28cm frying pan. They should be nicely brown and crisp at the end.
In the picture I served a salad of rocket, tomatoes & feta cheese on the side and I filled the pancakes with cream cheese, dill mustard and smoked salmon.  I garnished them with dried flowers and chili threads. You can experiment with other savory fillings and garnishes as well.
Enjoy, Melanie…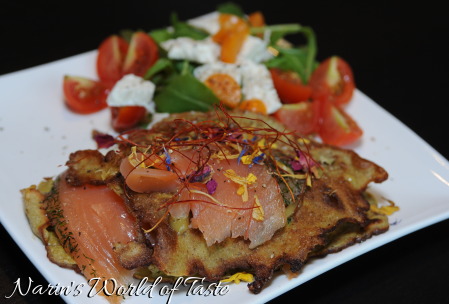 Categories: World of Recipes, Wraps, Pancakes, and Breads