I love finger food, especially during hot summer periods when you don't want to overeat on heavy food. Sometimes I only prepare a few finger food choices for dinner at home, and we feel very good eating that way. This recipe is a delicious meaty appetizer full of Asian flavors. The creamy, meaty, sour, crunchy, salty, and spicy ingredients all on one small spoon create a wonderful taste experience. If you like it more spicy, like us, you can experiment and add more chilis.
You need the following ingredients: (12 spoons)
200 g / 7 oz beef mince (freshest and leanest quality)
1/2 avocado
1 spring onion stalk
1 garlic clove
1 chili
1 tbsp chopped cilantro
2 tbsp soy sauce
1 tbsp sesame oil
2 tsp black sesame seeds
squeeze lemon juice
10 unsalted cashew nuts
salt and pepper (to taste)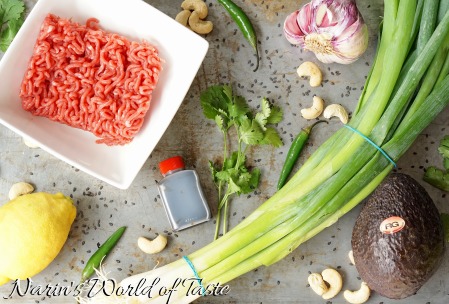 Wash the spring onion stalk, chili, and cilantro, peel one garlic clove and cut it into two pieces.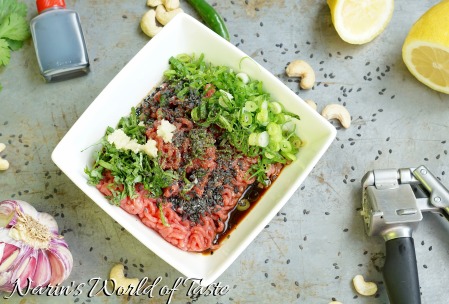 In a bowl, add the beef mince, 1 tsp black sesame seeds, soy sauce, sesame oil, and a squeeze of lemon juice. Chop the cilantro, chili, and spring onion thinly and add them as well. Crush one half of the garlic clove with a garlic press and add it to the beef mixture, then combine everything thoroughly. Season with salt and pepper to taste.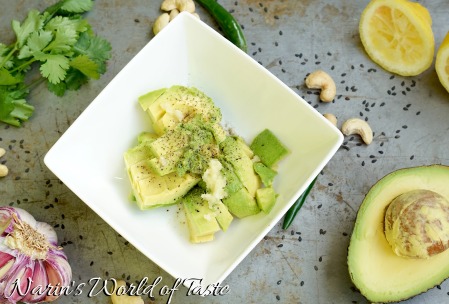 In a separate bowl, add cubes of half an avocado, the other half of the garlic clove crushed with the garlic press, a squeeze of lemon juice, and salt and pepper to taste. Combine everything thoroughly using a fork to also break the avocado cubes apart.
Hint: the easiest way to dice the avocado is to cut the avocado in half, remove the pit, and cut the soft inside into a grid. Now, using a table spoon, scoop out the avocado, which will roughly come out in small cubes.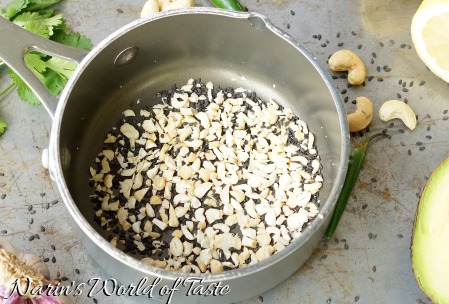 Cut the cashew nuts into thin pieces and add them with 1 tsp black sesame seeds into a small pan over medium heat and let them brown slightly by stirring them continuously.
You can prepare the steps above about 2 -3  h before serving, just store them in the fridge until serving.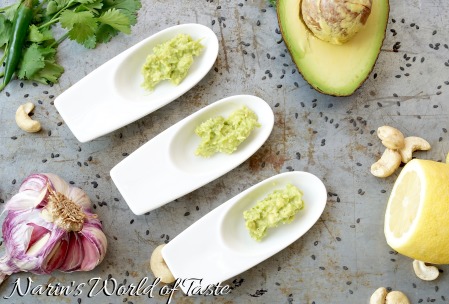 Prepare 12 serving spoons and place on about 1 tsp of the avocado cream on each spoon. To form the tartar balls, I prefer to wear disposable kitchen gloves. Divide the beef tartar into 12 similar pieces and form balls by rolling the tartar between your hands.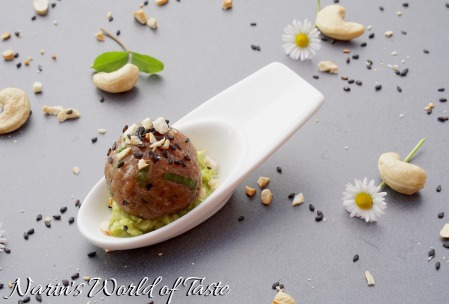 Place one ball on each spoon on top of the avocado cream, garnish with the roasted sesame and cashew seed and serve immediately.
Enjoy, Melanie…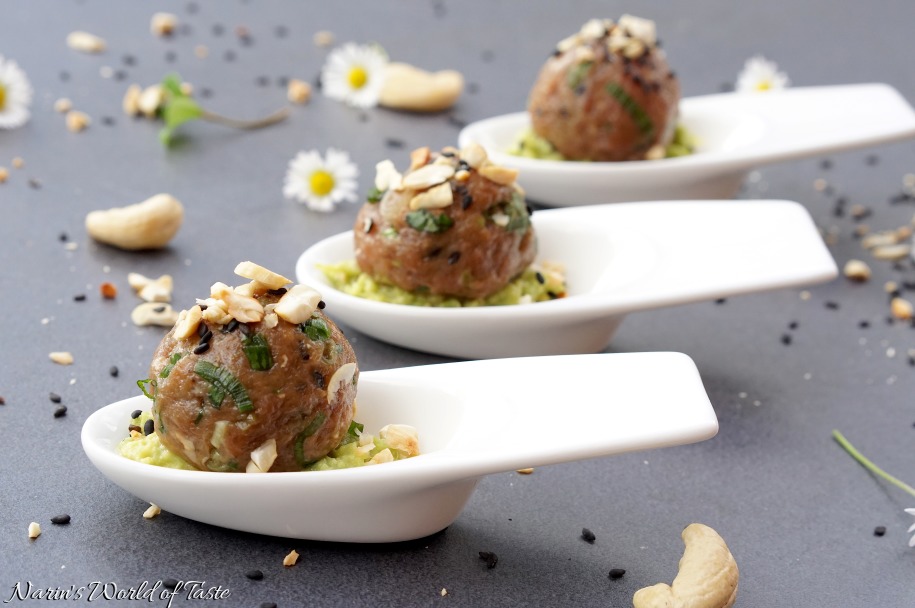 Categories: Starters, World of Recipes