The sun is shining and it's finally getting warmer in the mornings when leaving the house to bring the kids to school. I really need sunshine in my life and our weeks of sunshine in Luxembourg are very limited. Well, every time the glowing planet shows itself we're out and about. Off course, on those days you don't want to spend hours in the kitchen preparing food. This salad is a flavor explosion and the perfect quick fresh summer starter. It's a creamy, crunchy, spicy seafood combination, all in one dish.
You need the following ingredients: (about 4 servings)
150 g / ~5.3 oz crayfish + 50 g / ~1.8 oz for serving
125 g / ~4.5 oz snow peas
60 g / 2.1 oz arugula
2 medium size avocados
1 medium stalk spring onion
2 chilies
125 g / ~4.5 oz mozzarella cheese
2 tbsp sesame oil
3 tbsp soy sauce
salt & pepper to taste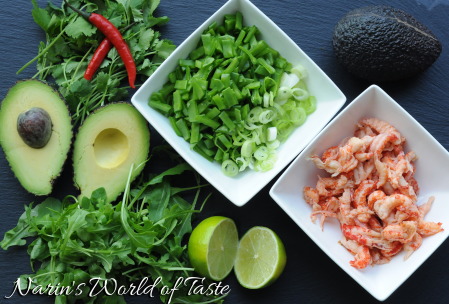 Wash the spring onions and snow peas and cut the spring onions into small rings and the snow peas into 0.5 cm (1/4″) pieces. Dice the mozzarella into small cubes and the avocados as well. Hint: the easiest way to dice the avocado is to cut the avocado in half, remove the pit, and cut the soft inside into a grid. Now, using a table spoon, scoop out the avocado, which will roughly come out in small cubes.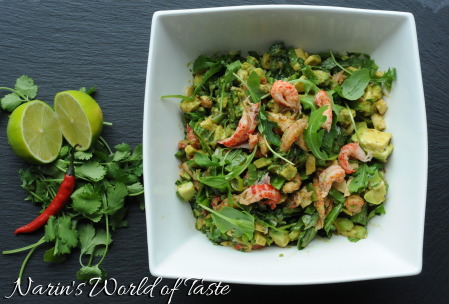 Pour the snow peas, spring onion, avocado, mozzarella and crayfish into a large bowl. Chop the cilantro and chilies and add into the bowl. Season the salad with the juice of half a lime, soy sauce, sesame oil, salt and pepper. Combine everything thoroughly. Taste and season a little more if needed. Right before serving, add the arugula, this way you will prevent it from becoming soggy. Mix in the arugula and serve immediately.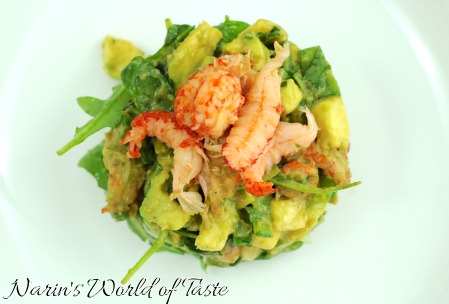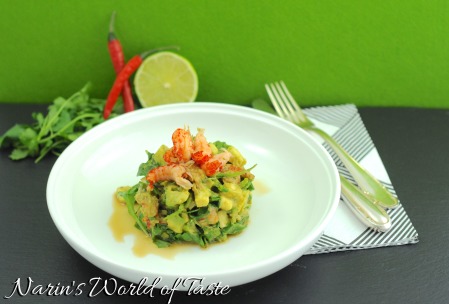 My serving suggestion is to use a food forming ring to create a nice looking plate, but if you don't have one, place about 4-5 tbsp of salad in the middle of a plate and decorate with fresh crayfish on top.
Enjoy, Melanie…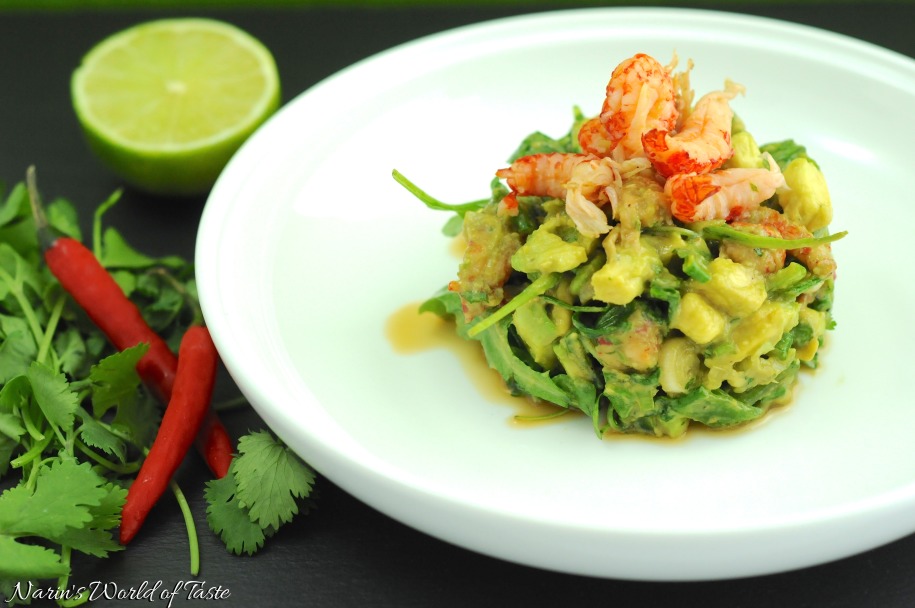 Categories: Salads, World of Recipes
4 comments