I'm addicted to spicy food. In fact, when starting with a savory breakfast in the morning, some spicy chili peppers have to be on my plate already. The following recipe is my version of an Asian chili garlic paste that is free of refined sugar or artificial additives. I use this paste in my Asian-influenced dishes. Since I try to leave out sugar and artificial additives, I now work on preparing my own pastes and sauces. Because of the added coconut oil and vinegar, you can easily store the paste in your fridge for up to two weeks or freeze it in small ice cube portions.
You need the following ingredients: (makes two small jars, ~ 150 ml/ 2/3 cup each)
2 garlic bulbs
20 red chili peppers (+/- depending on how spicy you like it)
2 shallots
3 tbsp coconut oil
3 tbsp apple or rice vinegar
1 tbsp organic honey
1 tsp salt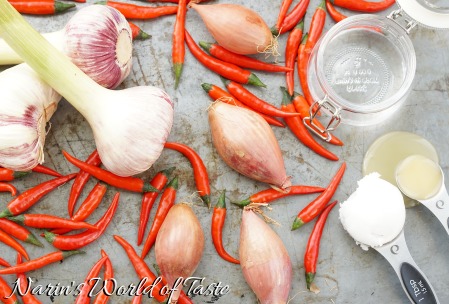 Peel the garlic and shallots and chop them thinly. Alternatively, use a food processor to do so, but don't over pulse, otherwise you will end up with a mushy consistency.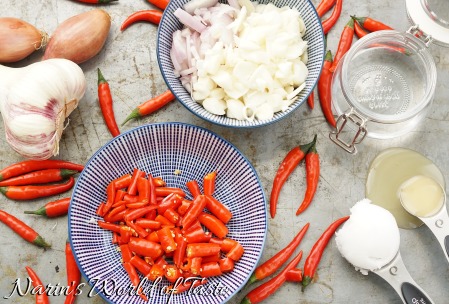 Wash the red chili peppers, deseed if you don't like it too spicy, and cut them roughly into 1 cm (~ 1/2 inch) pieces. Heat the coconut oil in a pan over medium heat. Let the garlic and shallots simmer for 2 minutes while stirring continuously. Remove from the heat and add all other ingredients and combine everything thoroughly.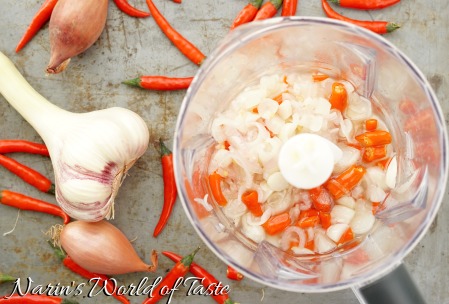 Pour the warm mixture into a food processor or blender and pulse until everything is blended into small pieces, like in the picture below.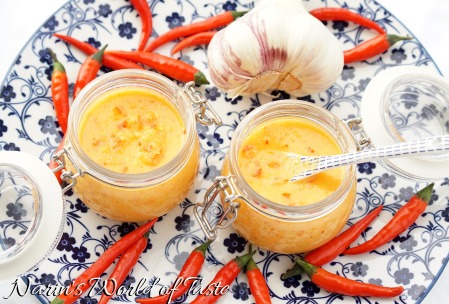 Store the chili garlic paste in a large or two small jars in your fridge for up to two weeks, or freeze the paste in ice cube containers.
I use the paste in a lot of my recipes, for example Asian Raw Tuna & Soba Noodles
Enjoy, Melanie…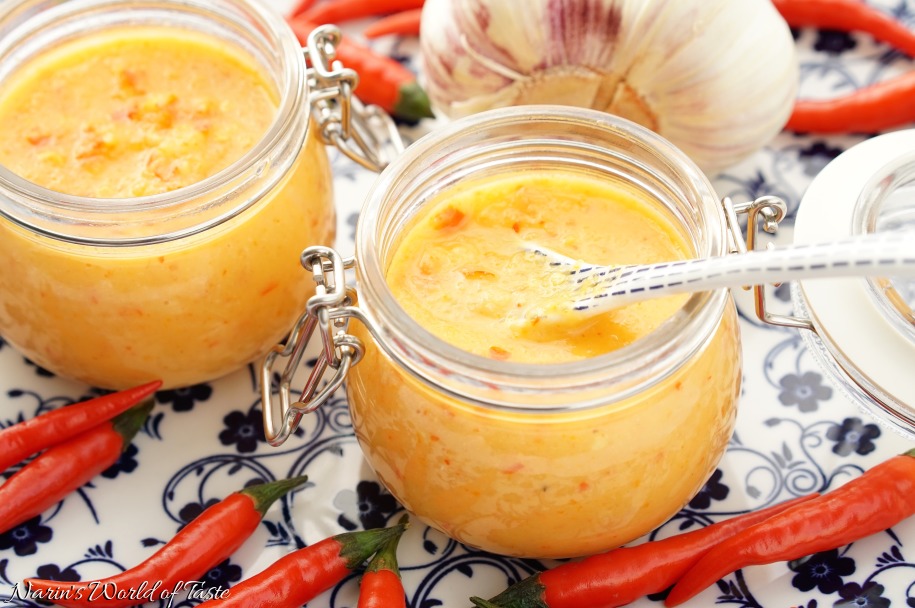 Categories: Sauces, Oils, and Pestos, World of Recipes