This is great as an appetizer or together with sushi. The tuna is cut into thin stripes, similar to pasta itself, which blends together very nicely. The sesame and chili garlic flavors combined with textures of raw fish and soba noodles make this a delightful taste experience. You can also combine tuna and salmon together for the dish.
You need the following ingredients: (serves 2 as a starter)
150 g / ~5 oz fresh tuna (sashimi quality)
100 g / ~3 1/2 oz organic soba noodles
2 tbsp sesame oil
2 tbsp soy sauce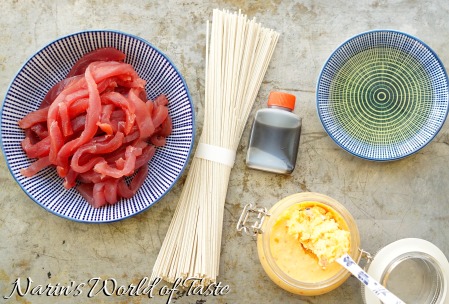 Cut the tuna into thin stripes (2-3 mm), about 5 cm long. Hint: when making sushi or sashimi, you can use the outer parts of the tuna filet that typically are a bit more chewy. Cook the soba noodles in salted boiling water until al dente. Drain and refresh in cold water, then drain again.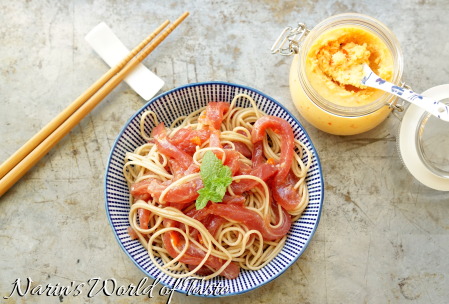 Pour the soba noodles into a mixing bowl. Add the sesame, the Asian Homemade Chili Garlic Paste, and the soy sauce and combine everything thoroughly. Now add the tuna and gently combine again. Place on a serving dish and garnish with sprouts or mint leaves.
Enjoy, Melanie…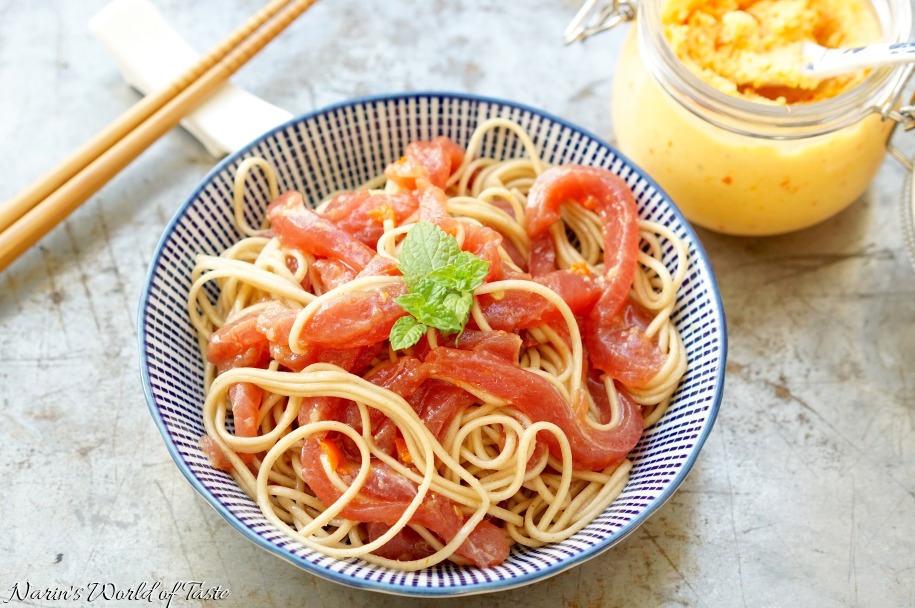 Categories: Starters, Sushi/Sashimi, World of Recipes