Caprese Salad is one of my favorite Italian starters. In this recipe I replaced the mozzarella cheese with burrata and instead of olive oil I created an herbed oil dressing. Burrata is made from mozzarella and cream, the outer shell is made from mozzarella and the inside contains both mozzarella and cream. The cheese has a rich, buttery flavor and retains its fresh milkiness. Overall, this is a nice combination of the creamy burrata, the strong flavor of the herbs, and the fresh, firm flesh of the tomato. This dish is especially nice during warm summer days, but in my opinion, you can enjoy it all year around.
You need the following ingredients: (serves 8 as a starter)
8 small Burratas (~ 100 g / 4 oz) or 4 large Burratas (~ 250 g / 8 oz)
8 medium tomatoes
a bag of rocket salad
balsamic glace or aged balsamic vinegar
For the herbed oil dressing:
10 g / 1/3 oz rocket
15 g / 1/2 oz basil
5 g / 1/5 oz mint
75 ml / 5 tbsp olive oil
1 tsp salt
pepper to taste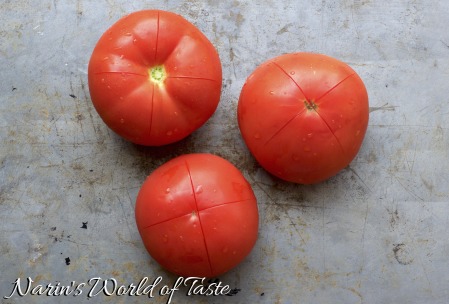 Bring a medium size pot with water to a boil. Wash the tomatoes and cut them slightly crosswise with a knife on their top and bottom. Try to only cut into the skin of the tomato, not into the flesh.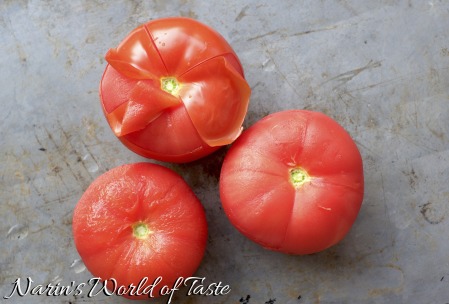 Add the tomatoes to the boiling water only for a few seconds. When you see the skin coming off, rinse them with cold water and peel off the skin completely. Make sure you don't overcook the tomatoes, otherwise their flesh will become soft and this will not taste or look as good. Store the tomatoes in a tupperware in your fridge until you need them. You can also already prepare them a day in advance.
For the herbed oil dressing, simply blend all ingredients with a hand blender or food processor. When done, ideally pour it into a squeeze bottle that you can later use to garnish the plate.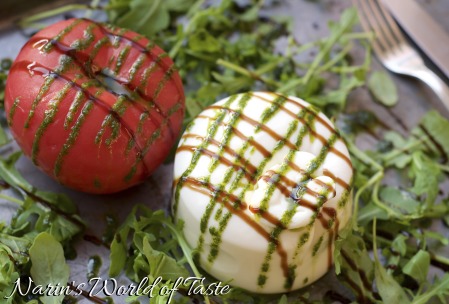 Serving:
Arrange one tomato and one Burrata (or 1/2 Burrata if they are big) on a plate and sprinkle some rocket leaves around them. Garnish with the herbed oil dressing (shake well before using) and the balsamic glaze or aged balsamic.
Enjoy, Melanie…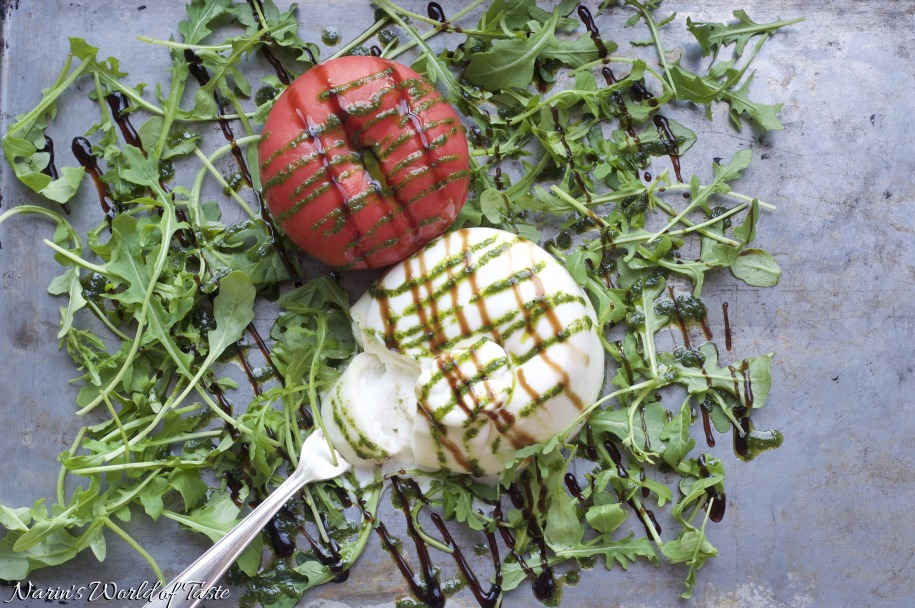 Categories: Salads, World of Recipes