On my first visit to Istanbul recently, I saw so many different and delicious ways eggplant can be prepared, it was amazing and inspiring. In this dish I combined some of the flavors of Turkey to create a quick, easy, and vegetarian dish you can enjoy by itself or with grilled lamb or meat. My husband is a big fan of eggplant, and I have to admit, I'm turning into almost as big of a fan as he is.
You need the following ingredients:
2 eggplants
1 onion
2 cloves of garlic
420 ml / 14 oz tomato puree
200 g / 7 oz feta cheese
1 tbsp cumin
2 tbsp zatar (or thyme)
2 tbsp olive oil
salt & peeper (to taste)
Start by preheating your oven to 200 °C / 390°F. Wash the eggplant and peel the onion and garlic.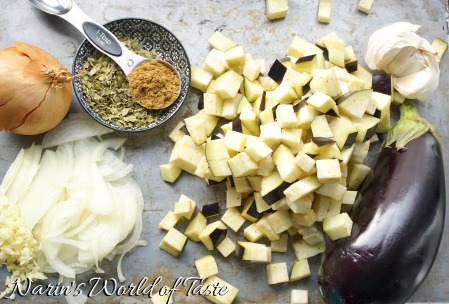 Cut the eggplant into cubes (~ 1 cm / 0.5 inch) and chop the garlic thinly. Half the onion and slice them thinly.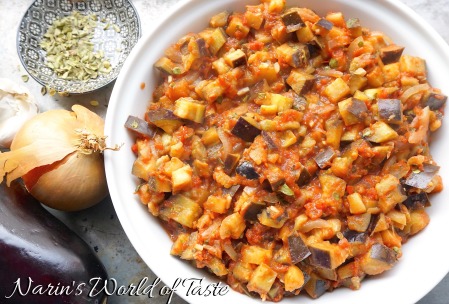 Over medium heat, sauté the onions and garlic with two tbsp olive oil. Then add the eggplants and let them cook while stirring continuously. Add the tomato puree, cumin, zatar, and season with salt and pepper.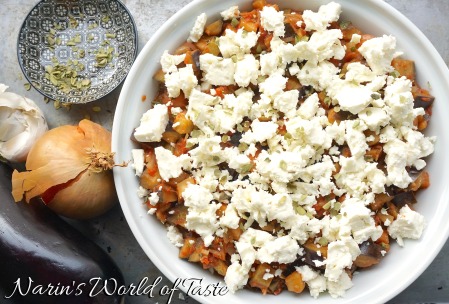 Pour everything into a casserole dish and crumble the feta cheese on top. You can also sprinkle some more zatar over it. Bake it in the oven for about 25 – 30 minutes or until the feta cheese starts browning.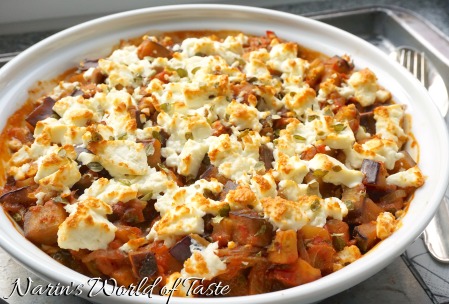 Serve the dish by itself as a vegetarian menu or alongside grilled meat or lamb chops.
Enjoy, Melanie…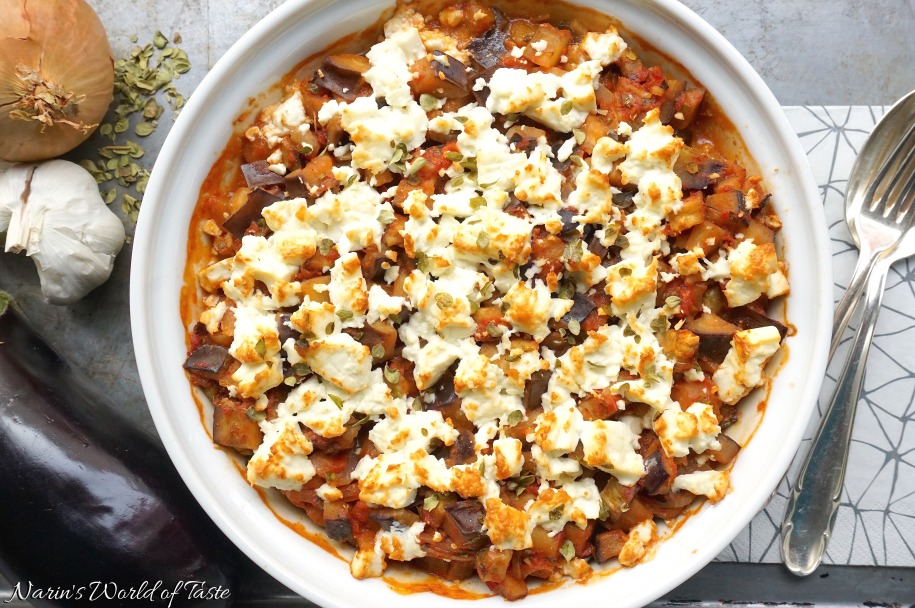 Categories: Main Dishes, World of Recipes
1 comment