What is your favorite savory snack after dinner? We often enjoy some nuts with a nice glass of wine in the evenings, especially cashew nuts or pistachios. We usually stay away from chips or crackers because they are usually loaded with unhealthy fats and other ingredients. I know that some better options are available now, but how about making your own?! That way you can choose the spices and oils, and you can use a healthy method for making your homemade chips: using a dehydrator – no deep-frying or baking needed. I recently bought my dehydrator by WMF and I'm very happy with it. If you don't have a dehydrator, there is also a method of using your oven to dehydrate.
In this recipe I dehydrated raw beetroot and seasoned it with spices that I would use to make spicy potato chips. Beetroot is low in fat, full of vitamins and minerals, and packed with powerful antioxidants. By dehydrating the beetroot you will not lose its health benefits.
You need the following ingredients:
3 medium size raw beetroots
1 tsp cumin
1 tsp salt
1/2 tsp chili powder (optional)
1/2 tbsp paprika powder
1 tbsp olive oil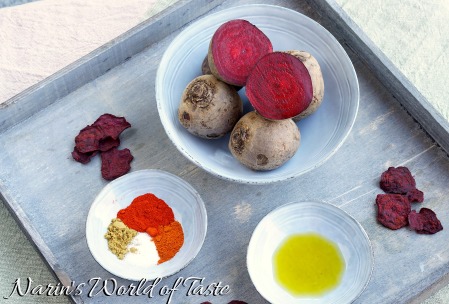 Peel the raw beetroots with a peeler. I always use kitchen gloves when working with beetroot, otherwise your hands will turn pinkish and the coloration won't easily go away. 😉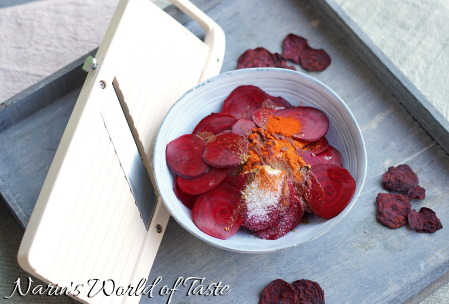 I use my Japanese slicer to slice the beetroots into about 1 – 1.5 mm (1/16th of an inch) equal slices, but you can use any vegetable slicer that you have that will cut thin slices. The good thing about the Japanese one is that I can adjust the thickness of my slices. Once done, season the beetroot slices with the spices and olive oil, make sure everything is combined thoroughly.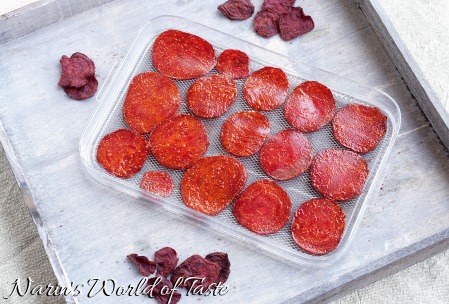 Place the seasoned beetroot slices evenly on your trays, make sure not to layer them on top of each other. Put the trays into the dehydrator and dehydrate on 70 °C / 160 °F for about 5-6 h, or until crunchy. You can do the same by using your oven. Layer the beetroot slices evenly on your oven trays and heat the oven to about 70 °C / 160 °F. Place the trays in the oven for about 5 – 6 hours or until crispy. Don't close the oven all the way, you have to leave it open just a little bit so that the beetroot can dry properly.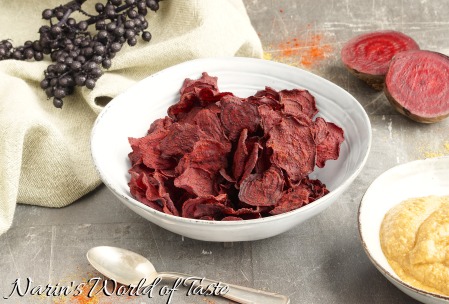 Store in a Tupperware container until serving, they will stay crunchy for about 1 week.
Enjoy, Melanie…
Categories: Crackers, Spreads, and Dips, World of Recipes