Right in time for the Olympic Games in Brazil, I created a fruity and refreshing Mango Caipirinha to enjoy on a beautiful sunny day – just imagine being alongside the picturesque beaches of Rio while listening to tropical tunes of Bossa Nova. Thinking about special ingredients from Brazil, Cachaça and mango immediately came to my mind. In this recipe you will find both an alcoholic and non-alcoholic version of this fruity variation of the famous Brazilian drink.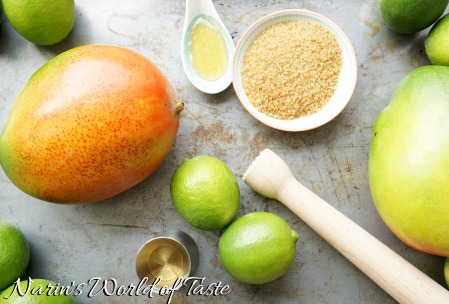 You need the following ingredients:
1 ripe mango
unrefined cane sugar (organic honey is also ok for the non-alcoholic version)
limes (1 per drink)
Cachaça – a distilled spirit made from sugarcane juice
crushed ice
sparkling water or club soda
Note: I always try to buy organic ingredients, ideally seasonal and local. In this recipe, I used most of the ingredients from Delhaize Luxembourg. They offer a good variety of fresh and/or organic ingredients, locally grown and from around the world.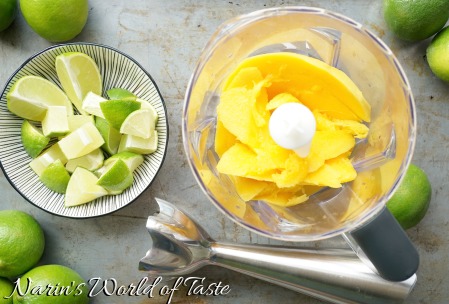 Before you start mixing your cocktails, peel the mango and add the pulp into a blender, hand blender, or food processor. Pure the mango pulp until very smooth, add some water if needed.
Alcoholic version of the Mango Caipirinha: (per serving)
pieces of 1 lime
1/2 tbsp unrefined cane sugar
4 cl mango puree
2 cl Cachaça
handful crushed ice
sparkling water (optional)
Non alcoholic version of the Mango Caipirinha: (per serving)
pieces of 1 lime
1 tbsp honey or 1/2 tbsp unrefined cane sugar
6 cl mango puree
handful crushed ice
sparkling water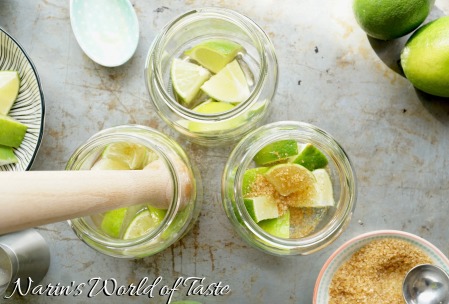 Wash the limes and cut them into quarters, then cut each quarter into 2-3 pieces, depending on the size of the lime.
Use a sturdy glass and feel free to play around with some ideas, for example, here I'm using used glasses from chickpeas, lentils etc.
Add the lime pieces and unrefined cane sugar (or honey) into a caipirinha glass. For the alcoholic version, also add the Cachaça. Muddle the ingredients with a wooden muddler or wooden spoon until the juice of the lime mixes with the sugar and Cachaça.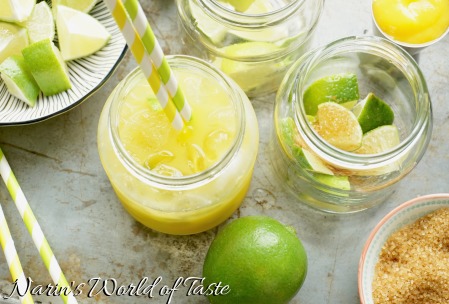 Add a handful of crushed ice and pour in the mango puree. Top up with some sparkling water. Stir everything thoroughly and serve immediately.
Enjoy, Melanie…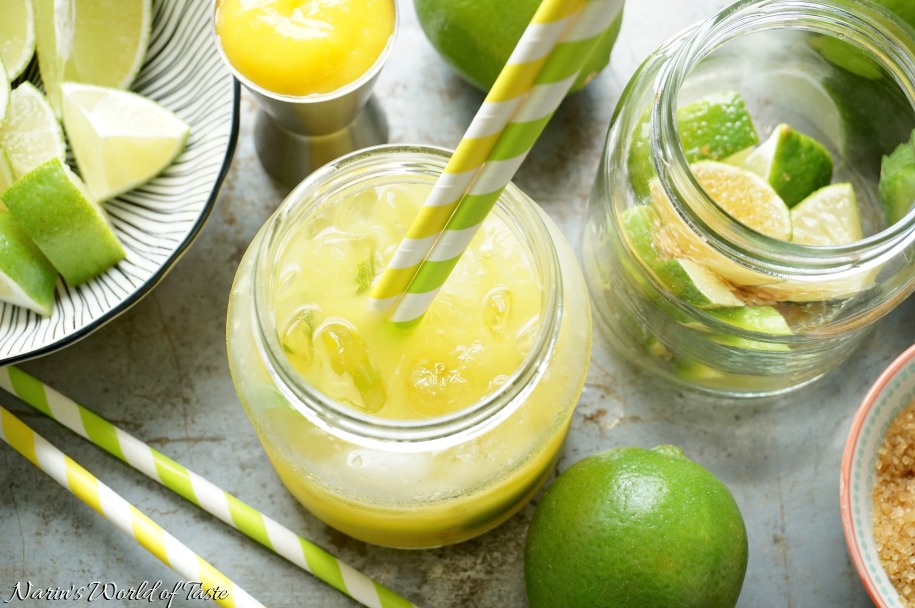 Categories: Smoothies and Drinks, World of Recipes