In this smoothie I used two powerful ingredients: Orange & Turmeric. Last week I travelled to Mallorca with my family and half way into our vacation, I started to feel really sick. I came down with a nasty flu, can't remember being so sick! I couldn't enjoy the rest of the trip and had to stay in bed most of the time, luckily we had a kids-club. 😉 Now back home, still not feeling perfectly well, I looked for the most powerful immune boosting ingredients, and this smoothie recipe is the result.
Orange, as you may know already, is high in Vitamin C. But do you know what Vitamin C is doing to your body? Vitamin C, or Ascorbic acid, a water soluble vitamin, is one of the most effective and safest nutrients to boost your immune system. In addition, it helps strengthen your blood vessels, cells, and muscles, which in turn can help prevent heart disease, stroke, or cancer. However, taking Vitamin C supplements does not provide the same protective benefits as drinking a glass of freshly squeezed orange juice, because in oranges the Vitamin C is part of a combination of good nutrients such as fiber, folate, potassium, calcium, and more.
Turmeric is a root similar to ginger, but with a dark yellow color inside, probably the most powerful herb on earth. It's been used for thousands of years, especially in India as an herb and medicine, and now known for its powerful anti-inflammatory effects. It's a strong antioxidant and helps reduce the risk of cancer and supports detoxification.
You need the following ingredients:
2 organic oranges
1 organic lime
1 organic apple
1 organic banana
2-3 cm / 1 inch turmeric root
1 tbsp organic soy protein powder
1 tbsp chia seeds
1 tsp lemon balm leaves
180 ml / 3/4 cup almond milk
5-6 large ice cubes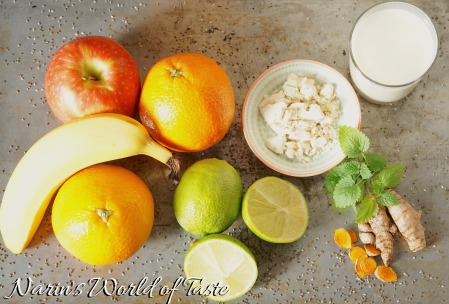 Peel the orange and lime and remove any seeds. Wash the apple, remove the core, and cut into pieces. Peel the banana and wash the lemon balm leaves and turmeric root. Depending on what kind of blender you use, you might have to chop the ingredients smaller.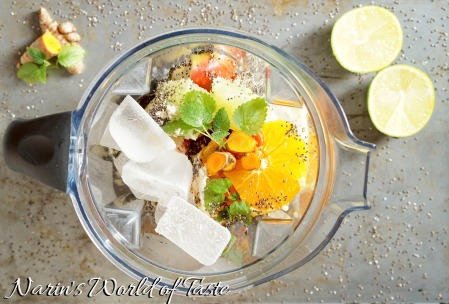 Add everything to your blender and blend on high speed until everything is well blended and smooth. You can also use a hand blender if you don't have a regular blender, or if you're making smaller portions. We recently bought a high-powered blender called Vitamix, it's in daily use in our house and worth every penny. We love it! We get the best smoothie results ever, so smooth and creamy – yummy!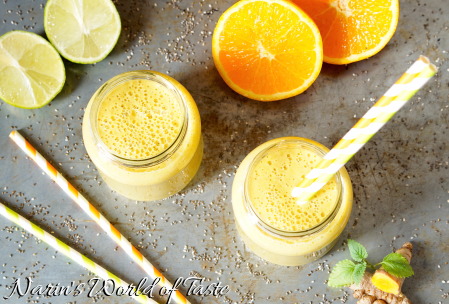 Pour the smoothie into glasses and serve immediately. You can garnish it with a orange slice and/or sprinkle some grounded tumeric on top.
Enjoy, Melanie…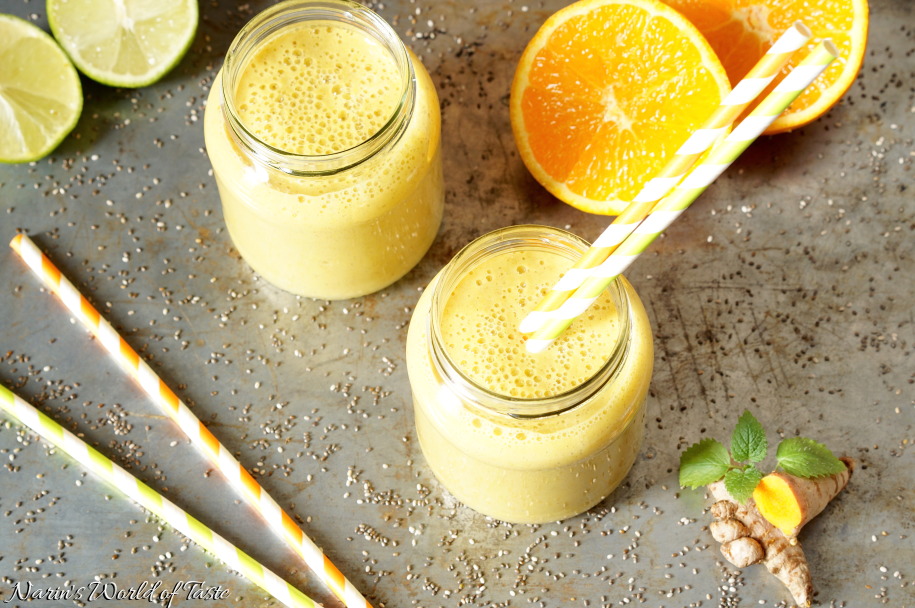 Categories: Smoothies and Drinks, World of Recipes
2 comments