Hummus is always a great snack in between or as a tapa or meze when welcoming guests at your home. In this recipe I used sweet potatoes, which are not only delicious, but also a great source of beta-carotene, which helps raise the vitamin A level in our blood. Adding olive oil helps to extract the beta-carotene benefits of this root vegetable even more.
You need the following ingredients:
400 g / ~0.9 lbs sweet potato
1 glass (~ 400 g/ ~0.9 lbs) organic cooked chickpeas
1 tsp cumin
1 tsp chili powder
1 tsp curry powder
120 ml / 1/2 cup Tahini (sesame paste)
1 tsp salt (to taste)
juice of 1/2 a lemon or lime
80 ml / 1/3 cup sour cream
2 tbsp olive oil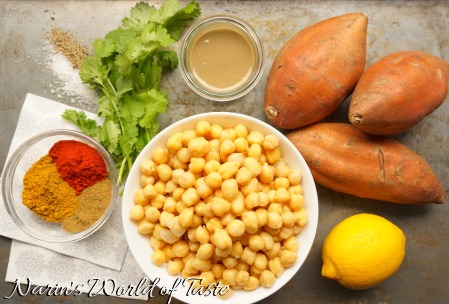 Pour the chickpeas into a sieve to strain them. I also rinse them with cold water.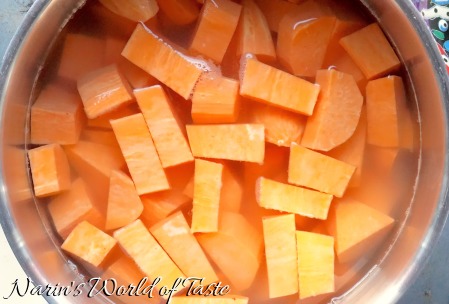 Peel the sweet potato, cut it into pieces, and cook in a pot with salt water until soft. This typically takes 20-25 minutes depending on the size of the pieces (you can test by piercing with a fork). Once cooked, pour the sweet potato into a strainer to drain the water.
Add all the ingredients into a Tupperware or bowl, then puree everything with a hand blender until you have a smooth cream and no pieces are left. If necessary, add a little water to thin the cream.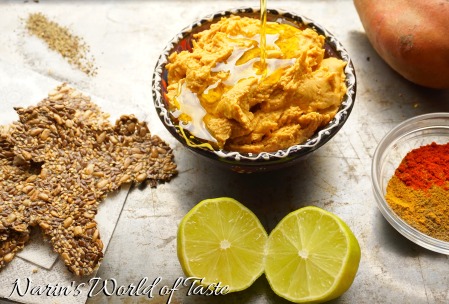 Serve in a nice bowl, sprinkle some chili powder and/or olive oil on top and enjoy the Sweet Potato Hummus with my Nutty Crackers or some raw vegetables such as bell pepper, carrot sticks, or broccoli florets.
Enjoy, Melanie…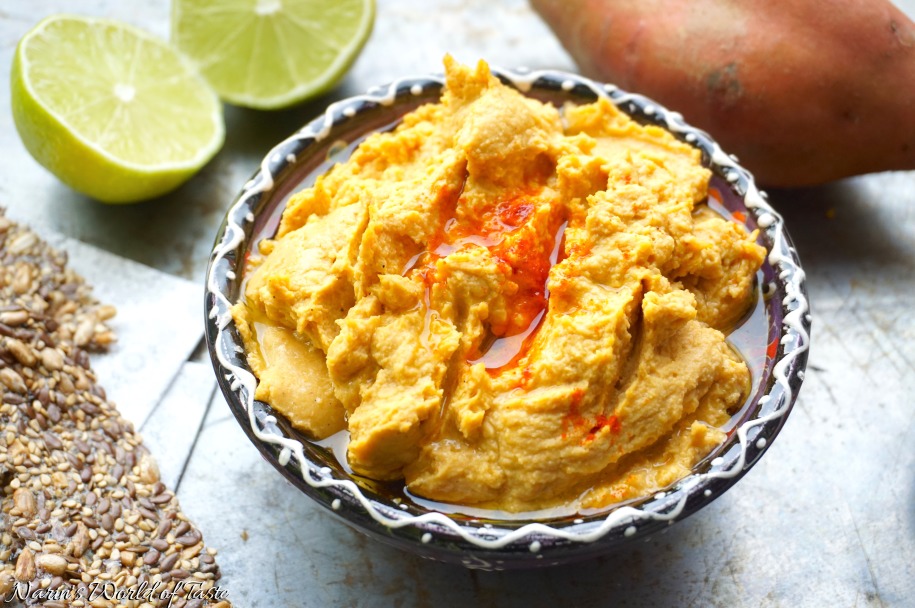 Categories: Crackers, Spreads, and Dips, World of Recipes