This summer we spent a week in Tuscany. We like the region a lot, the historic old towns, the landscape, and of course, the good food and wine. At one of the wine farms we had a delicious lunch and wine tasting menu. The primo piatto was homemade pasta with vegetarian sauce – very simple, but full of flavors. Based on this delicious experience, I decided to create my own. The combination of the vegetarian pasta sauce, rosemary, organic pasta, white truffle in olive oil, and freshly grated Parmesan, was a taste explosion in our mouth. Give it a try.
You need the following ingredients: (serves 4)
or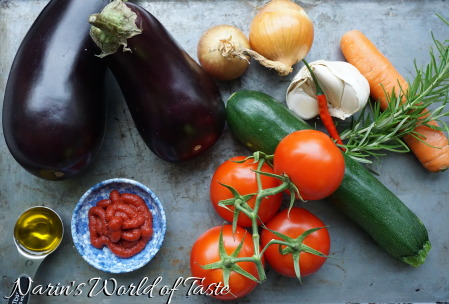 For the vegetarian sauce:
For serving: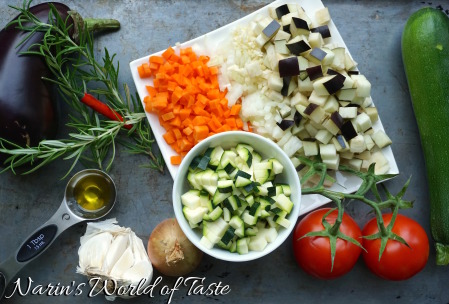 Begin by peeling the white onions and cloves of garlic and dice them as thinly as possible. Wash the zucchini, eggplant, and tomatoes and peel the carrot. Cut them into small cubes.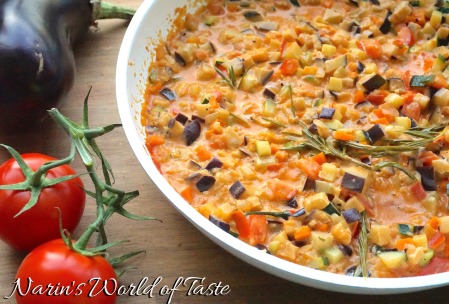 Heat 4 tbsp of olive oil in a pan, add the white onion, garlic, eggplant, carrot and zucchini and brown slightly. Meanwhile, chop the chili thinly or add it completely if you like it less spicy (you can remove it before serving). If you use fresh rosemary, wash it and chop the needles thinly, which will bring out more flavor. You can also add entire rosemary stalks (which you can remove before serving). Now add the chili, rosemary, and tomato paste. Stir well, season with salt & pepper, and reduce the heat. Add the diced tomatoes, cream, and liquid (stock, water, or white wine) and stir well. Let it simmer on low heat for about 30 minutes. During this time, you can prepare the pasta.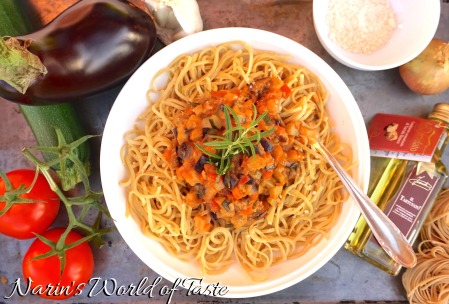 Bring a big pot with salt water to a boil and add your pasta. I used a very delicious Tarajin pasta made from Enkir flour. Enkir wheat is the first cereal cultivated by Man, till today it's milled with natural millstones which means that the grain does not overheat during the process. That way, all nutritional properties are maintained.
When the pasta is cooked (follow instructions on package), drain it and arrange it on your plates. Season your vegetarian sauce to taste and pour it over the pasta. Sprinkle some Parmesan cheese and truffle oil over the dish. Here I used white truffle in olive oil from the Piemont region.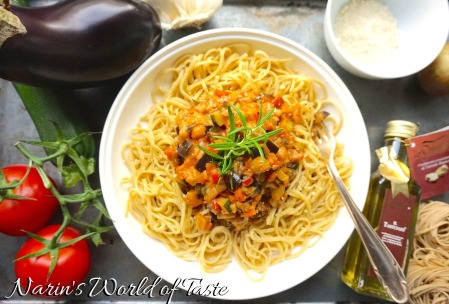 If you prefer to eat carb-free, just prepare my Zucchini Noodles instead of the pasta.
Enjoy, Melanie…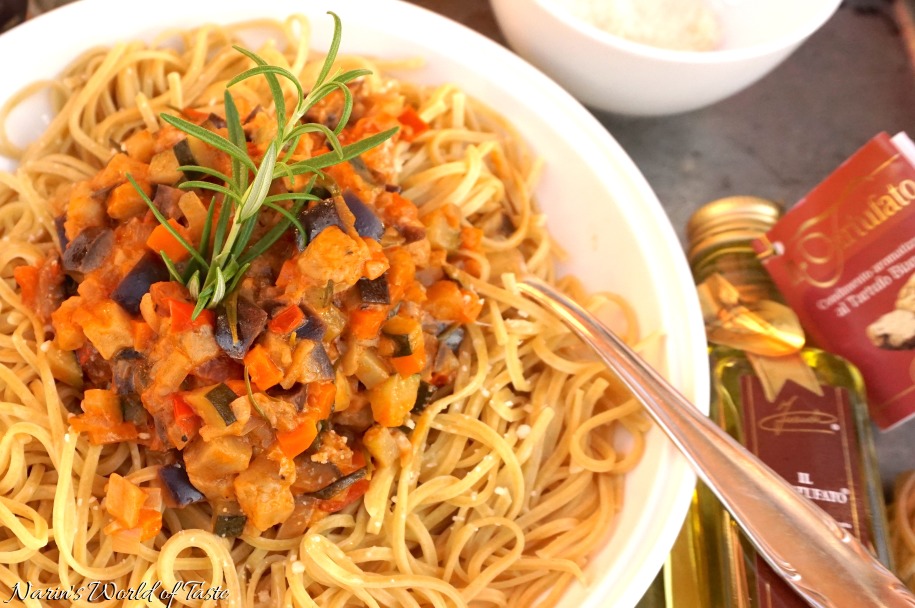 Categories: Main Dishes, World of Recipes