Crackers make for a nice snack and are also great as an appetizer when welcoming guests. In this recipe I added hazelnuts and walnuts combined with a little spicy chilli powder. Baking your own crackers is great because you can get very creative with different herbs or spices. I love trying different ingredients to see what the outcome is. And the best part: you only have to mix the ingredients, spread them out, and let them bake in the oven – easy, quick, and delicious.
You need the following ingredients:
50 g / 1 3/4 oz flax seeds (brown)
150 g / 5 1/4 oz sunflower seeds
50 g / 1 3/4 oz hazelnuts
100 g / 3 1/2 oz walnuts
50 g / 1 3/4 oz oats
1/2 tsp chilli powder
1 tsp salt
3 tbsp psyllium husks
460 ml / ~ 2 cups water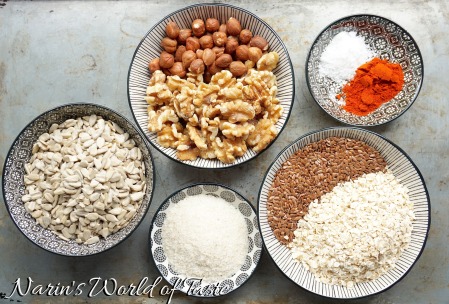 Preheat the oven to 160 °C / 320 °F and measure all ingredients.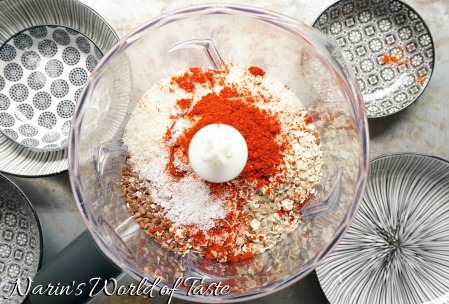 Put only the dry ingredients into a food processor.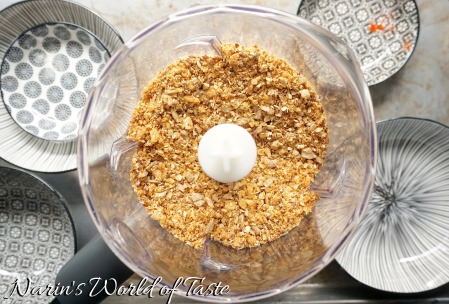 Puls the food processor a couple of times. The ingredients should be combined nicely and the bigger nuts broken apart. Don't over-puls it, you don't want to end up with a mashy consistency. In a bowl, combine the dry ingredients with the water and let them soak for about 15 minutes, the water should be gone completely.
Spread the mixture as thinly as possible onto 2 baking trays layered with baking sheets or silicon sheets. The mixture should have no holes in it. Place the trays in the oven and bake for about one hour. They should be slightly browned and dried throughout, but not burned.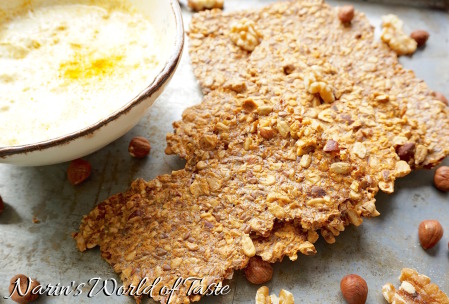 Serve the Walnut and Hazelnut Crackers with your favorite dip or crème. For example, it goes really well with the delicious Sweet Potato Hummus or Lentil Feta Dip. You can also enjoy them with butter and cheese and use them instead of bread.
Enjoy, Melanie…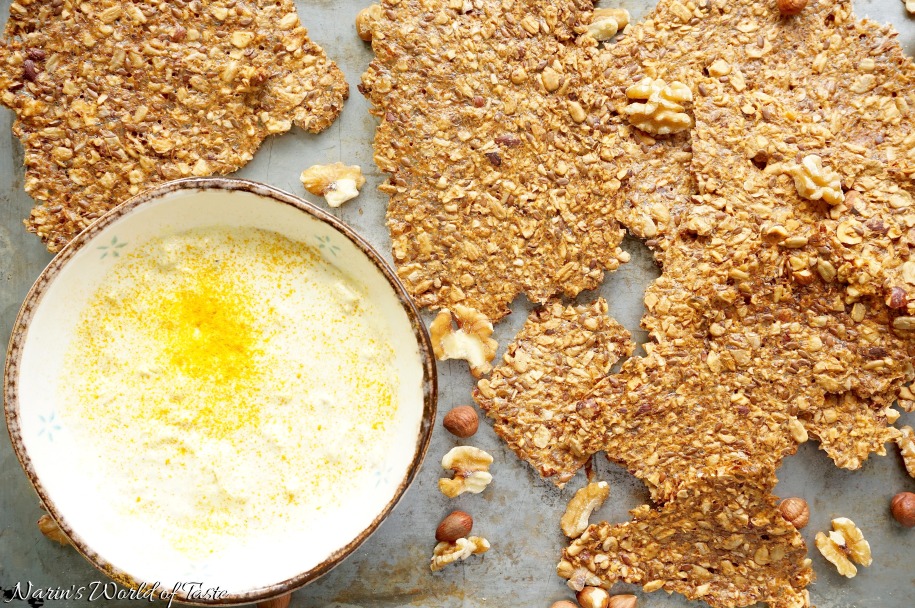 Categories: Crackers, Spreads, and Dips, World of Recipes