Homemade Pesto is a very easy and quick flavor highlight for a delicious meal. For this pesto, I used arugula instead of basil because it creates a nice peppery and nutty flavor. You can serve it with any kind of pasta, meat, or vegetables. For example, recently I served it as a carb-free meal with zucchini noodles and lots of parmesan on top. It was so delicious and light. Grilled prawns or chicken would nicely accompany it as well.
You need the following ingredients:
50 g (~ 1.8 oz) arugula (rocket salad)
40 g (~ 1.5 oz) parmesan cheese
20 g pine nuts + 15 g for garnish (~ 1.2 oz total)
200 ml olive oil (~ 7 oz)
1 tsp salt
pepper (to taste)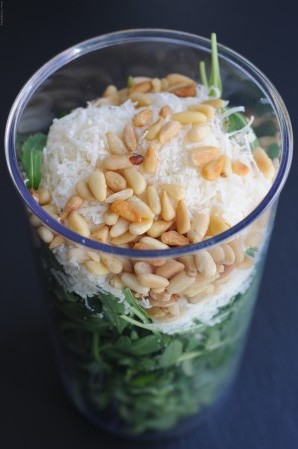 Grate the parmesan cheese. Heat the pine nuts in a pan without oil until lightly brown. Then pour all ingredients into a measuring glass or Tupperware and puree it with a hand blender until everything is completely blended.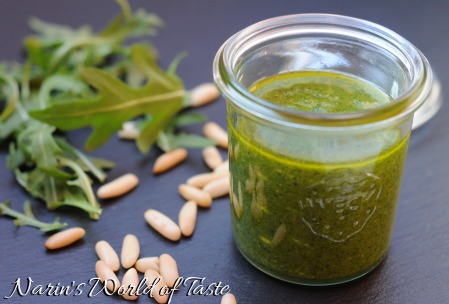 Serve it fresh over pasta, Zucchini Noodles, or anything else you like. If you have any pesto leftover, pour it into a jar or Tupperware, and it can be stored about a week in the fridge.
Enjoy, Melanie…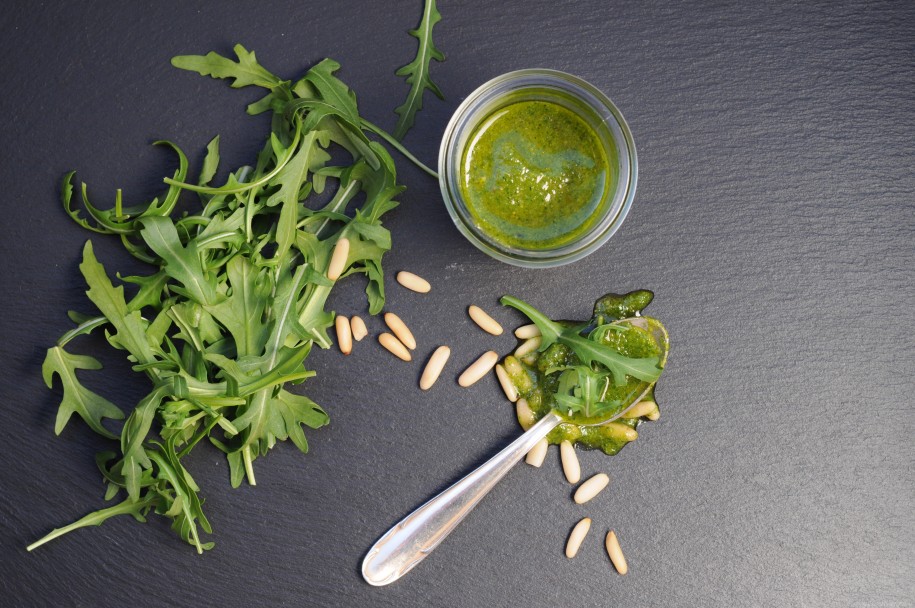 Categories: Sauces, Oils, and Pestos, World of Recipes
1 comment