While traveling trough India years ago, I fell in love with Indian food. Back home I started cooking it, and the smell of a freshly prepared curry is unbelievable. I usually cook more meat and fish curries accompanied by side dishes like Saag Paneer (spinach and cheese) or Daal (red lentils). Here I created a delicious chickpea and sweet potato curry, which is a great vegetarian dish and a solid alternative to meat or fish curry.
You need the following ingredients: (serves  about 4)
500 g (~ 1.1 lbs) sweet potato
1 glass (~ 400 g/ ~0.9 lbs) organic cooked chickpeas
60 g (~ 4 tbsp) tomato paste
3 cloves of garlic
1 medium onion
1 can  (~ 400 g/ ~0.9 lbs) organic chopped tomatoes
1 tbsp curry powder
180 ml (3/4 cup) coconut milk or cream
360 ml (1 1/2 cups) water
2 tbsp mint leaves chopped
salt to taste
1 tbsp ghee or coconut oil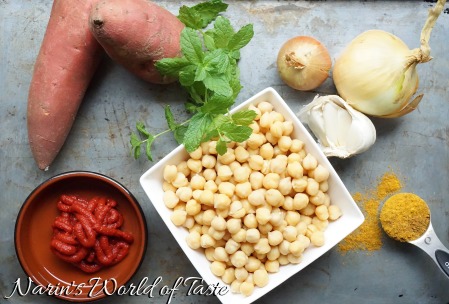 Pour the chickpeas into a sieve to strain them. I also rinse them with cold water.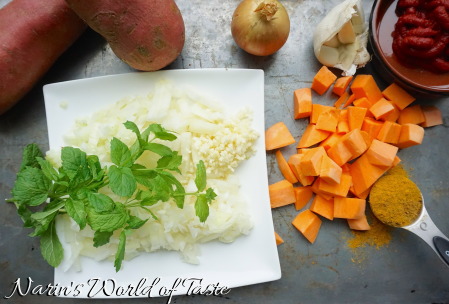 Peel the sweet potato, onion, and garlic. Chop the onion and garlic thinly and cut the sweet potato into 1,5 cm (~ 1/2 inch) cubes. Heat 1 tbsp ghee or butter in a medium size pot, add the onion and garlic, and let them brown slightly. Pour in the tomato paste and curry powder and stir continuously until the paste becomes a bit darker in color. This step is very important to get all the flavors out of your curry.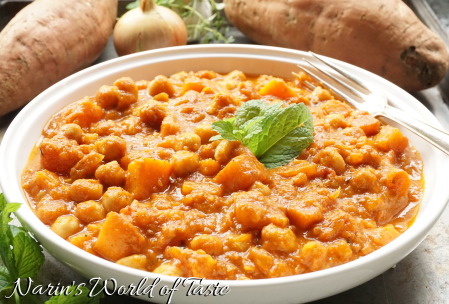 Now add the sweet potato, chickpeas, chopped tomatoes, cream, and water (I rinse the tomato can with some of the water and add this to the curry). Stir everything well and season with some salt. Let it simmer on medium heat for about 30 minutes until the sweet potato is cooked. Before serving, add the chopped mint and season with salt to your taste.
I love to eat the curry by itself with some yogurt and chopped chilies, but you can serve it with rice, meat or fish, or any other way you prefer. You can also try it with my Cauliflower Rice or Chickpea Flatbread if you want to avoid carbs.
Enjoy, Melanie…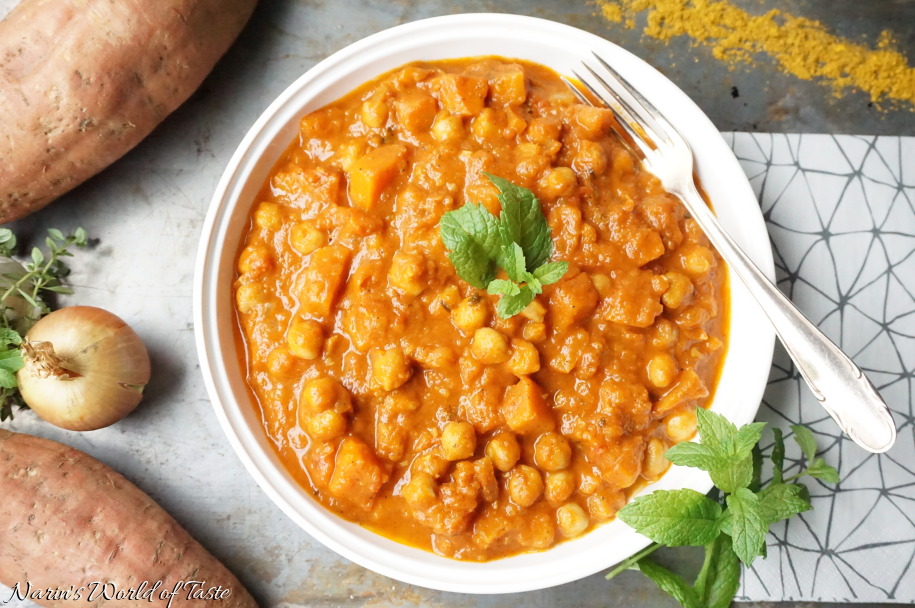 Categories: Main Dishes, World of Recipes
3 comments