We just returned home after a few days in Dubai where we enjoyed the food and the various international flavors. We ate at one of our favorite Thai restaurants several times, and it was so delicious! Inspired by this experience, and thinking about what to cook for dinner tonight, I decided to go for Thai. I wanted to combine the crunchy texture of the Laab Gai Salad (minced chicken salad) and the spicy creamy flavor of the Thai Red Curry. To keep it light and healthy, I served it on Chinese cabbage, which you can fold into a wrap. You can serve this dish as a starter (8 servings) or a main dish (4 servings).
You need the following ingredients:
1 Chinese cabbage
750 g chicken breast
1 red pepper
1 yellow pepper
4 stalks of spring onion
3 garlic cloves
2-3 tbsp ginger (about 4 cm ginger root)
2 Thai red chilies
1 tbsp red curry paste
100 ml coconut milk
2 tbsp sesame oil
2 tbsp coriander leaves
1 tsp mint leaves
salt & lime to taste
sprouts to garnish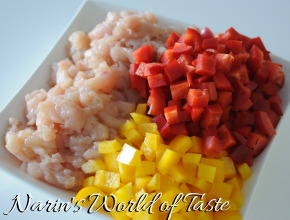 Start with dicing the chicken breast into very small pieces, so that it's almost minced. Wash the red and yellow pepper and cut them into small cubes. It should look similar to the picture above.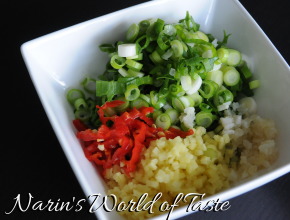 Wash the spring onion and chop the white and green part into thin rings. Peel the garlic and the ginger root and chop them into very thin pieces. The most efficient way to peel ginger root is using a teaspoon instead of a knife to remove the skin. Rinse the chilies, remove the white membrane and seeds because they are the hottest part of the chili, and chop thinly. If you like it hot, slice the chilies in their entirety. In the picture, because we like it very hot, I used a habanero chili and I chopped it including the seeds.
Cut the bottom of the cabbage so the leaves separate. Wash the leaves and set aside until serving.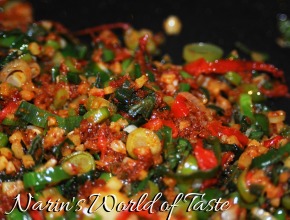 Heat 2 tbsp of sesame oil in a wok or pan and add the spring onion, garlic, ginger, and chili, and sauté. Then add the red curry paste and mix well until aromatic.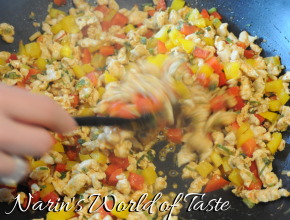 Add the chicken and cook until almost done, stirring frequently. Add the peppers and sauté for about 5 minutes. During this time, chop the coriander and the mint leaves. Then add coconut milk, coriander, and the mint leaves. Combine everything and bring to a boil. Season with salt and lime juice to taste.
Serve immediately by placing about 2 -3 tbsp into one cabbage leave and garnish with sprouts and coriander or a mint leave. As an alternative to the Chinese cabbage, you can also serve the curry with white rice.
Enjoy, Melanie…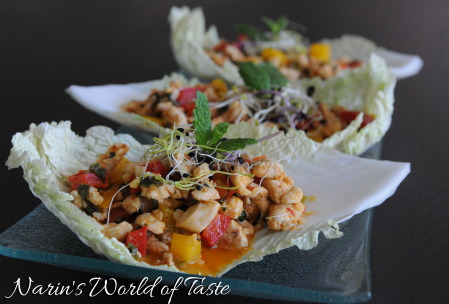 Categories: Main Dishes, Starters, World of Recipes