In this smoothie I combined fresh pineapple with coconut water and shredded unsweetened coconut to create a fresh summer flavor. We drink smoothies almost every morning because it is a delicious opportunity to add your daily amount of vitamins, proteins, and omega 3 to your diet. Did you know, only 150 g (~ 1 cup) of fresh pineapple will provide over 100% of your recommended daily Vitamin C intake?
You need the following ingredients: (serves about 4)
2 bananas
300 g / ~ 10 oz pineapple
360 – 480 ml / 1 1/2 – 2 cups coconut water
5 – 6 ice cubes
2 tbsp chia seeds
1 tbsp shredded unsweetened coconut
Cut the pineapple into pieces and put all the ingredients into your blender.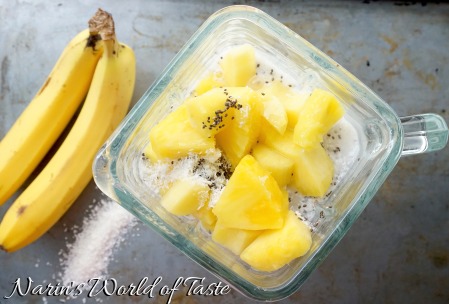 Blend on high speed until everything is well blended and smooth. You can also use a hand blender if you don't have a regular blender, or if you're making smaller portions.
Pour the smoothie into glasses and serve immediately. You can garnish it with a pineapple slice and/or sprinkle some shredded coconut flakes on top.
Enjoy, Melanie…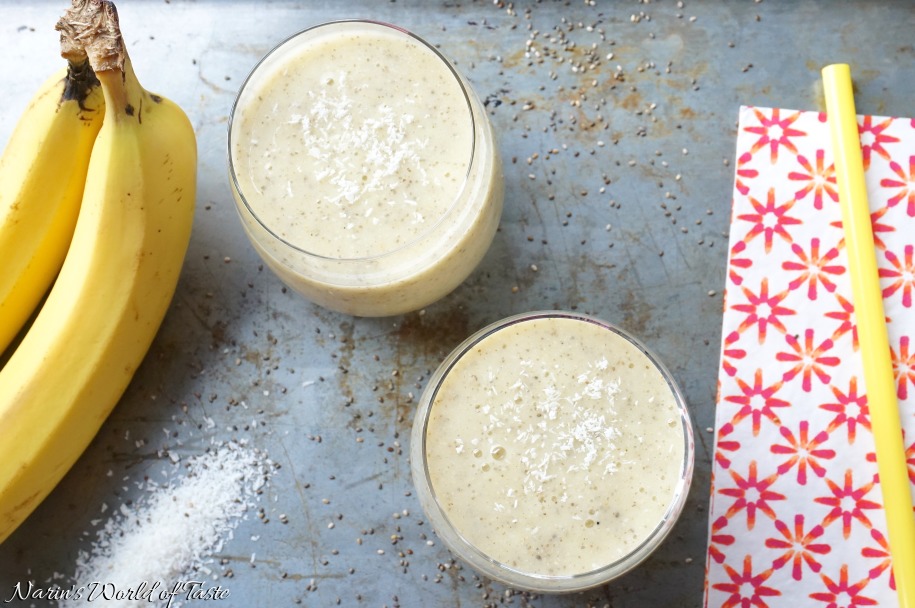 Categories: Smoothies and Drinks, World of Recipes
1 comment