I love the flavors of Middle Eastern food, especially from Lebanon, Turkey, and Morocco. To make this hummus, I added Zatar and a little chilli, which goes very well with the earthy flavour of the beetroots. Zatar is an herb that grows in the Middle East and tastes similar to thyme and oregano. In the Lebanese cuisine, it's being used with sesame seeds and olive oil to create spreads for flat breads. Beetroots, especially when raw, are a very good source of vitamins and minerals. They are packed with antioxidants to keep our immune system healthy. A real super food!
You need the following ingredients:
400 g / 14 oz organic cooked chickpeas with liquid
2 beetroots raw
1 lime
1 chilli
2 garlic cloves
2 tbsp vegan sour cream (or as you prefer)
1 tbsp Zatar (Arabic Thyme or dried Thyme)
2 tbsp sesame seeds
1 tbsp tahini
1 tsp salt
pepper to taste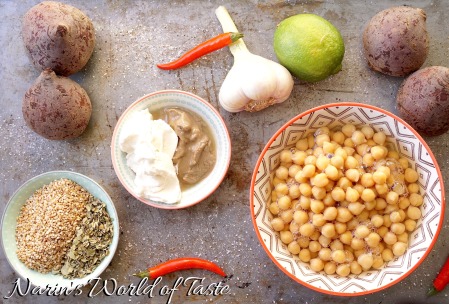 Measure all ingredients.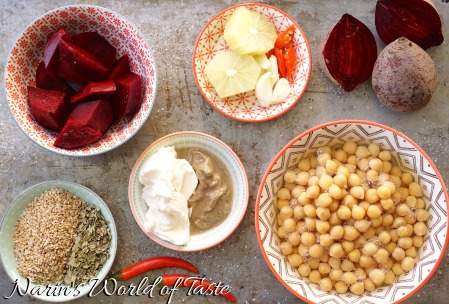 Peel the garlic, lime, and beetroots. Make sure to wear gloves, and be careful doing this because the beetroots will color your fingers and clothes immediately. Deseed the chilli if you don't like it too spicy.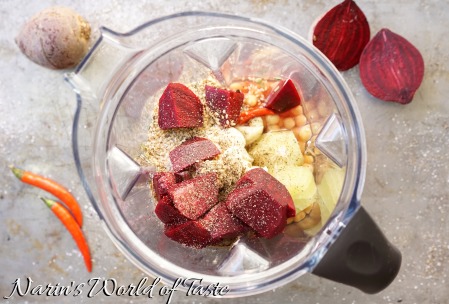 Pour all your ingredients into a high power blender. If you don't have one, you can also use your hand-blender. Blend until everything is well mixed and you end up with a smooth and creamy texture.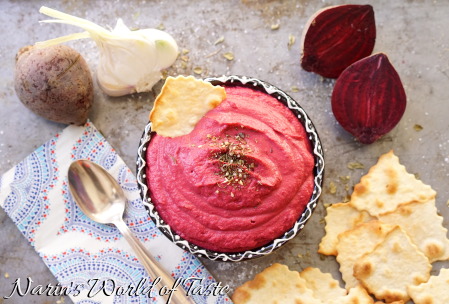 Serve your Raw Beetroot Hummus in a nice serving dish alongside some crackers. For example, they go very well with my Nutty Crackers or Flaxseed Sesame Crackers.
Enjoy, Melanie…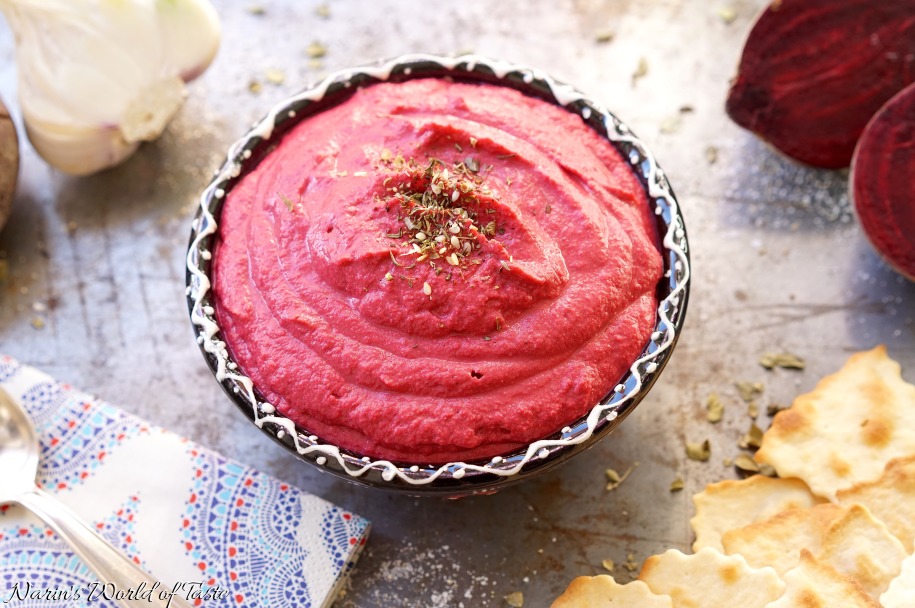 Categories: Crackers, Spreads, and Dips, World of Recipes
1 comment