This recipe is my version of a delicious starter that we were served this year for our Valentine's Dinner. We went to an Asian fusion influenced restaurant with good friends, and as part of their festive menu, we had a fancy ravioli style radish starter. As you know, I'm always looking for carb-free recipes and I immediately got inspired to create my own version of a turnip ravioli starter.
For the filling, I wanted to use fish in combination with herbs, spices, and creamy avocado. I discovered delicious organic prawns from Madagascar at our local supermarket, which almost have the flavor of crayfish and go awesomely well with mint. For the dressing, I combined Japanese organic miso paste with lemon, vinegar, and sesame oil. Here I also experimented with soy lecithin to end up with a nice foam that won't disappear quickly.
You need the following ingredients: (serves 4)
For the ravioli and prawn filling:
1 turnip
100 g / 3.5 oz organic cooked prawns
1 avocado
1 spring onion stalk
1 lemon
1 tbsp mint leaves and extra for serving
1 tbsp sesame oil
1 tsp Asian Homemade Chili Garlic Paste (optional 1/2 red chili and 1 clove of garlic minced)
1 tsp horseradish
~1/2 tsp salt
For the miso foam:
1 tbsp organic miso paste
2 tbsp apple vinegar
1 tbsp sesame oil
1 tbsp lime juice
1/2 tsp soy lecithin (optional)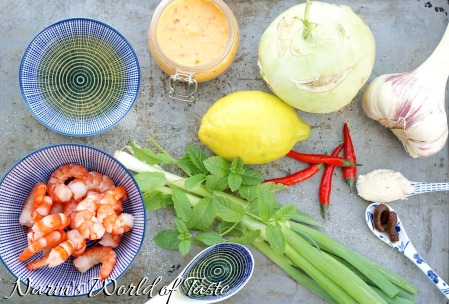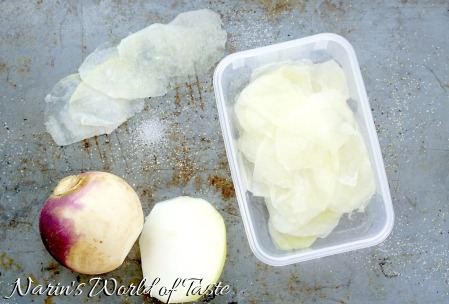 Peel the turnip with a peeler and slice it paper thin with a knife or cucumber slicer. I recently invested in a Japanese slicer which is similar to a cucumber slicer, but you can adjust the thickness of the slices. You need about six nice thin slices per serving. Store the turnip slices in a Tupperware in the fridge until serving.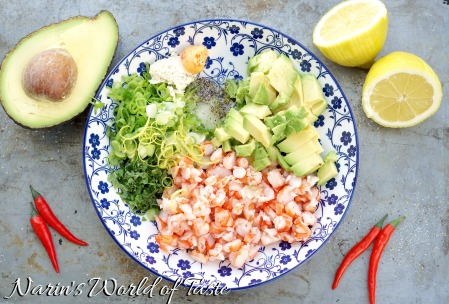 For the prawn filling, slice the prawns into small pieces, wash the mint, lemon, and spring onions. Zest 1/4 of the lemon, slice the spring onion and mint thinly. Cut the avocado in half, remove the pit, then while still surrounded by the peel, cut length- and crosswise through the flesh of the avocado to create small cubes. Do so carefully so that you don't cut through the peel, then scoop out the cubes with a spoon. In a bowl, combine the prawns, spring onion, mint, avocado, lemon zest with 1 tbsp sesame oil, 1 tsp lemon juice, 1/2 tsp salt & pepper, and 1 tsp chili garlic paste. Mix everything thoroughly. Store the prawn filling in a Tupperware in the fridge until serving.
For the miso foam, combine 1 tbsp organic miso paste, 2 tbsp apple vinegar, 1 tbsp sesame oil, 1 tbsp lime juice, and optionally, for a molecular effect, 1/2 tsp soy lecithin together. Blend with a hand blender until foamy. Try to get as much air as possible into the liquid by holding your hand blender at a slight angle, that way it will create a nice foamy texture. Soy lecithin is part of the molecular kitchen and helps maintain the texture of the foam.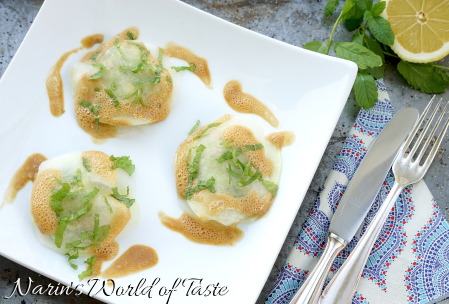 For serving, place three turnip slices on each plate, add a tablespoon of the prawn filling on top of the turnip, then add another layer of turnip on top which will create a ravioli-style top. With a spoon, add some of the foam around or on top of each turnip ravioli and sprinkle some mint on top.
Enjoy, Melanie…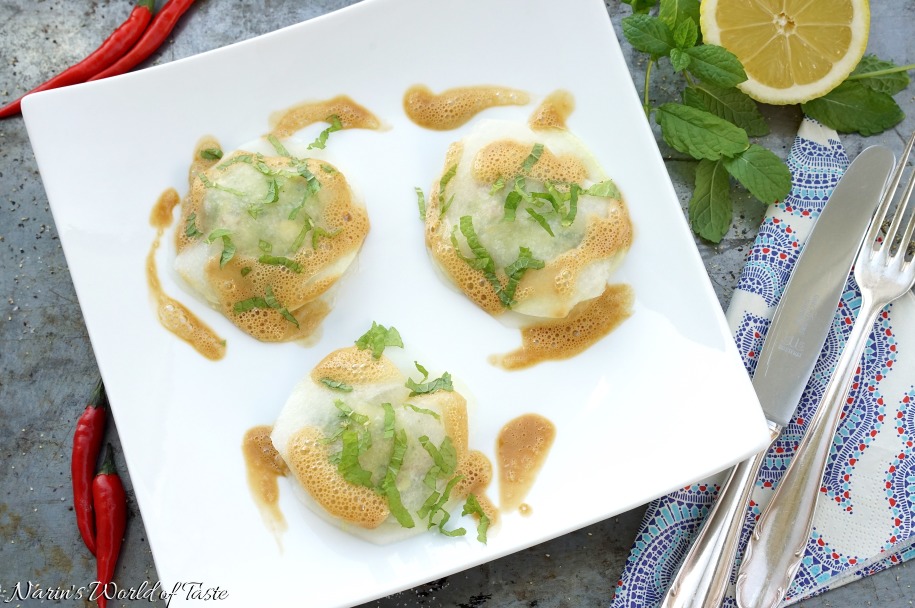 Categories: Starters, World of Recipes