This shake doesn't only boost your immune system with lots of vitamin C, it also helps cleanse, hydrate, and detoxify your body.
My kids have all been down with a nasty flu. It's bad to have one sick kid at home, but can you imagine three of them? It was a nightmare! I tried to feed them food with high amounts of immune boosting and anti-inflammatory properties, but they didn't felt like eating at all. The only thing they liked was freshly prepared blood orange juice.
During this time, our local supermarket Cactus started a program called "bewosst drenken" and they offered me a few products, one of which was organic birch water. Birch water is a traditional beverage in Russia, Scandinavia, and Baltic countries and used there for ages as a nutritional supplement and for medicinal purposes. It has a slightly sweet taste, similar to maple syrup, but much lighter and fresher. While reading more about the health benefits of birch water, I found out that it's a good source of vitamins, proteins, amino acids, and minerals. It can help to detoxify your body and is also used for hydration, which is important during the flu.
With this knowledge I created this shake, because this is exactly what my kids needed to get over this nasty flu.
You need the following ingredients: (makes about 2 big glasses)
4 blood oranges
6-7 ice cubes
240 ml / 1 cup organic birch water
1/2 organic lemon
1/2 tbsp chia seeds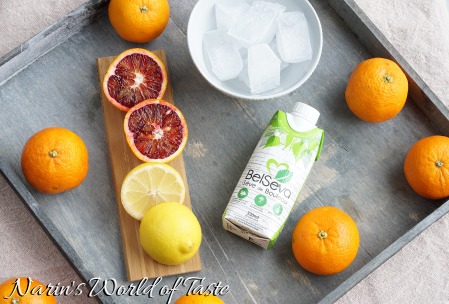 Peel the blood oranges, cut in half and remove all the seeds. Do the same with the lemon half. If you don't have a high power blender, try to cut off as much of the skin as possible.
Add everything to your blender and blend on high speed until everything is well blended and smooth. You can also use a hand blender if you don't have a regular blender. We love our high-powered blender called Vitamix, it's in daily use in our house. You can get the best shake results ever, so smooth and creamy – yummy!
Pour the shake into glasses and serve immediately. You can garnish it with a blood orange slice on top.
Enjoy, Melanie…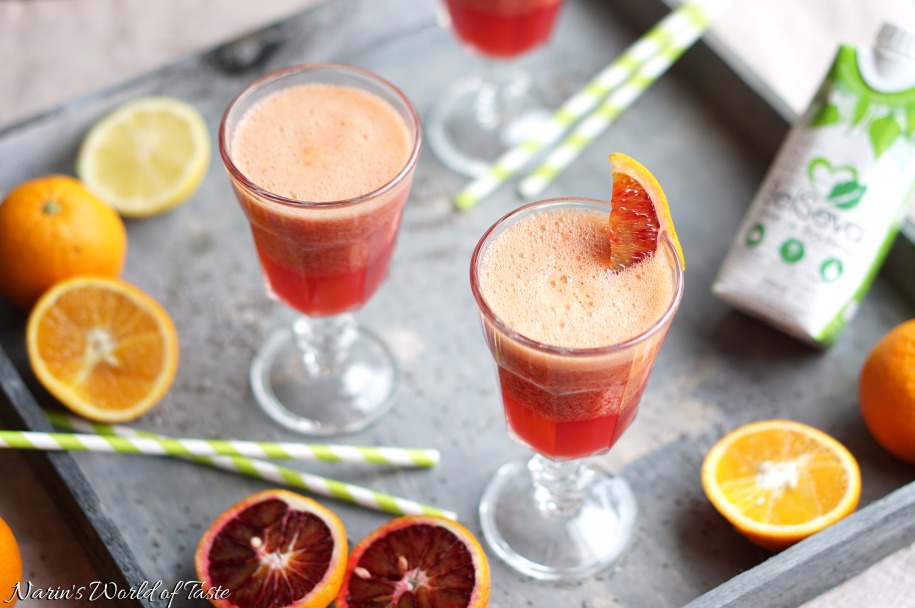 Categories: Smoothies and Drinks, World of Recipes
1 comment