With Chili Con Carne you can never go wrong. It's great as a midnight dish if you're having a big party e.g. for New Year's eve, and it's also one of my kid's favorite foods. All three of them like it very much, which does not happen often these days. I cook it almost every other week because it's a good source of nutrition for their weekday meals and very easy and quick to prepare. I love to add cumin and cinnamon because it creates a very nice flavor.
You need the following ingredients: (serves about 6-8)
1 kg / 2.2 lbs ground beef
1 large onion
2 garlic cloves
400 g / 14 oz chickpeas
400 g / 14 oz kidney beans
230 g / 8 oz sweet corn
720 ml / 3 cups tomato puree
75 ml / 5 tbsp tomato paste
480 ml / 2 cups water
1 small tsp chili powder
3 tbsp paprika powder
2 tbsp cumin
1 cinnamon stick
~ 1 tsp salt & pepper (to taste)
2 tbsp olive oil or butter
For serving:
sour cream
cilantro
fresh chopped chilies
lime wedges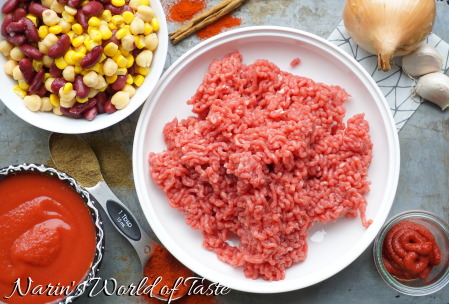 Begin by draining the glasses of the cooked chickpeas, kidney beans, and sweetcorn with a large sieve.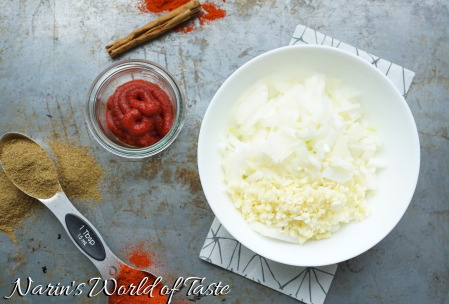 Peel the onion and cloves of garlic and chop them thinly.
Now heat 2 tbsp olive oil or butter in a large pot and add the chopped onions and cloves of garlic. Let them brown slightly by stirring continuously. Add the tomato paste, chili powder, paprika powder, and cumin. Stir continuously until the paste becomes a bit darker in color. This step is very important to get all the flavors out of your spices.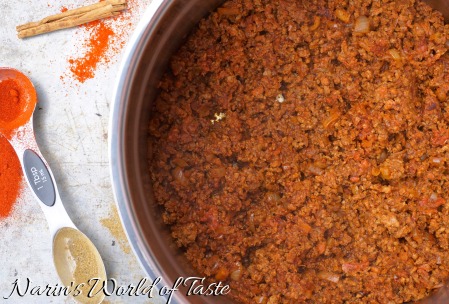 Once this has happened, add the ground beef and season with salt and pepper. Stir regularly until it is cooked. Add the tomato puree, water and cinnamon stick, combine everything and let it simmer for about 30 minutes. Then pour in the drained chickpeas, kidney beans, and sweetcorn and simmer again on low heat for about 1 – 1.5 hours. The Chili Con Carne becomes even better after a day or two.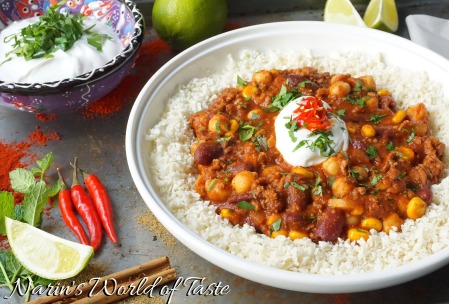 Serve the Chili Con Carne on a plate with rice, cauliflower rice, and/or chickpea flatbread. Garnish with sour cream, chopped chilies, lime wedges, and sprinkle some chopped cilantro on top. My kids prefer to eat it with noodles made of spelt flour and some grated mozzarella cheese on top.
Enjoy, Melanie…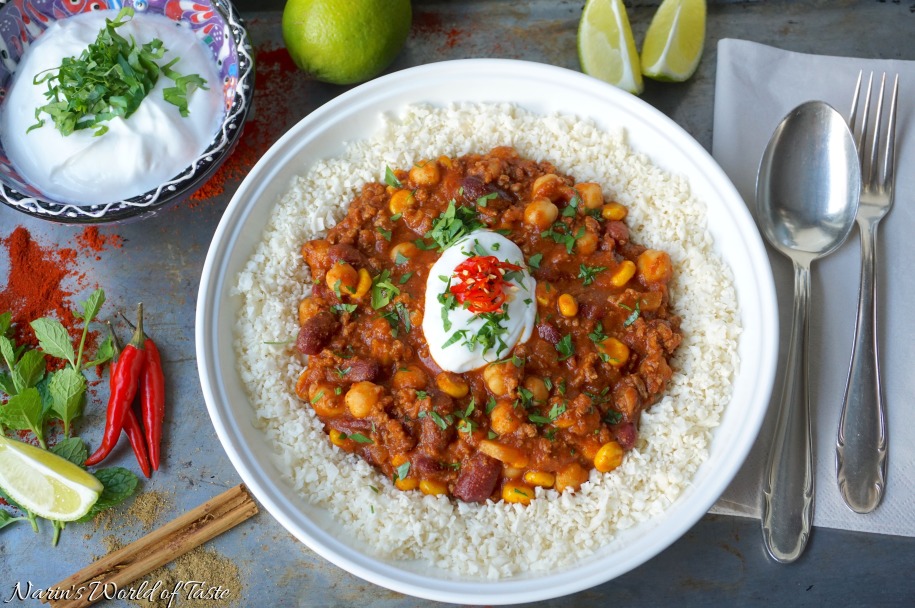 Categories: Kids Recipes, Main Dishes, World of Recipes