Indian food is a long-time favorite in our house. The whole family is in love with the smell these wonderful spices spread through the house while cooking. It's really healthy food for your body and soul. Also the variety of vegan recipes is huge, and many others can easily be adapted to be vegan. For the following recipe, I used organic red lentils and fresh curcuma root, but you can also use curcuma powder if you can't find the fresh one. Lentils are known for their great nutritional value and high content of protein, which is not only valuable for vegetarians and vegans, but important for any healthy diet. Those tiny round legumes in combination with curcuma and ginger will nourish your body at its best.
You need the following ingredients: (serves about 4-6 people)
1 cup / 200 g organic red lentils
1 can / 400 ml organic chopped tomatoes
1 onion
2 – 3 cloves of garlic
5 cm/ 2 inch ginger root
5 cm/ 2 inch turmeric root
1/2 tsp chilli powder
2 tbsp chopped coriander
1 tbsp coconut oil
salt & pepper (to taste)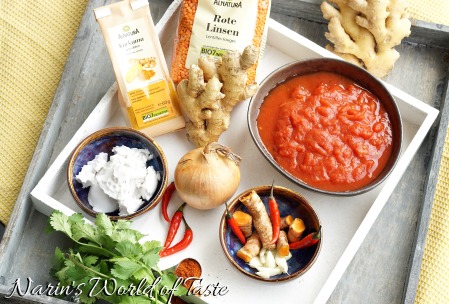 Chop the onions and coriander thinly, crush the garlic cloves and grate the ginger and turmeric. In a medium size pot, heat the coconut oil, add the onion, garlic, ginger, turmeric, chilli powder, and coriander. Let it cook slightly by stirring continuously.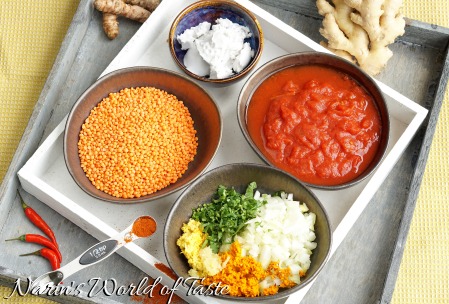 Add the red lentils, chopped tomatoes, coconut milk, and water (I rinse the tomato can with some of the water and add this as part of the water). Stir everything well and season with some salt. Let it simmer on medium heat for about 30 minutes until the red lentils are cooked. Before serving, season with salt & pepper to your taste.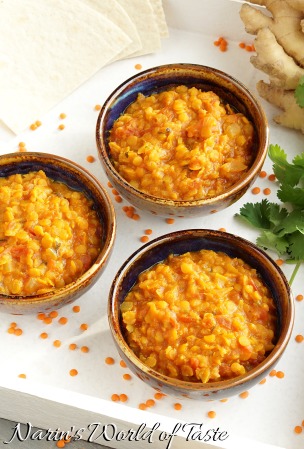 I love to serve the Indian red lentils to accompany  my Kashmiri Chicken Curry, Cauliflower Rice, and Chickpea Flatbread. You can also serve them with rice, meat, or fish, or any other way you prefer.
Enjoy, Melanie…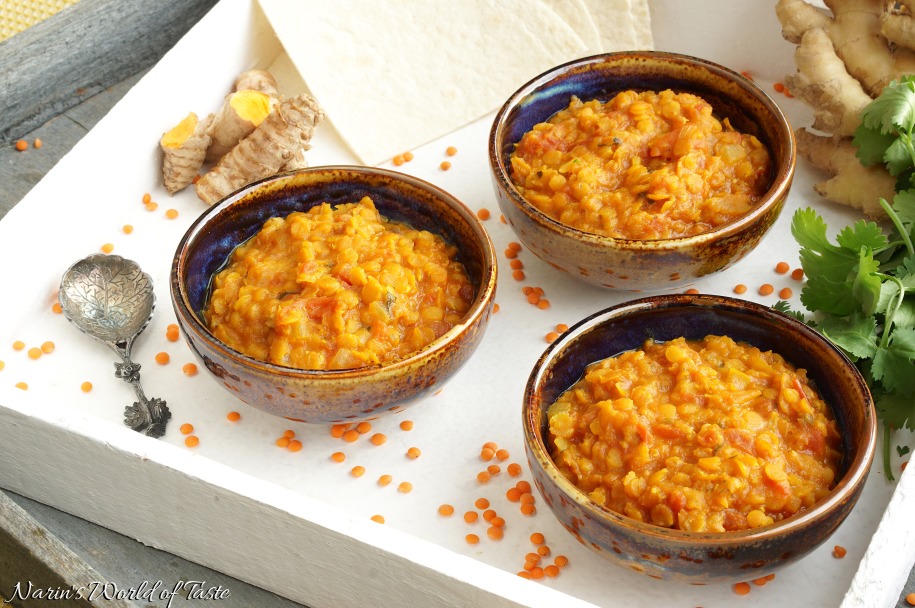 Categories: Side Dishes, World of Recipes
1 comment