Chicken Curry is an all-time favorite in our house and full of Umami. Even the kids love to eat it. Recently I received some Kashmiri chili powder from a good friend in London, which is one of the most amazing mixtures I've tasted so far. The Kashmiri Chicken Curry turned out very nicely, a perfect flavor combination. You can serve it with rice, or for a carb-free alternative, with my Cauliflower Rice or Chickpea Flatbread (recipe to follow) as shown in the picture.
You need the following ingredients: (about 4-6 servings)
1 kg / 2.2 lbs chicken breast
2 medium sized white onions
5 cm / 2″ ginger root
2 garlic cloves
~ 800 ml / ~ 3 1/3 cups tomato sauce
50 g / 1,8 oz tomato paste
1 tbsp / 10 g cumin
~ 3 tbsp / ~ 20 g Kashmiri chili powder (a little more or less, depending on how spicy you like it)
about 3 tbsp chopped coriander
~ 250 ml / ~ 1 cup coconut cream or heavy cream
salt (to taste)
sesame oil or ghee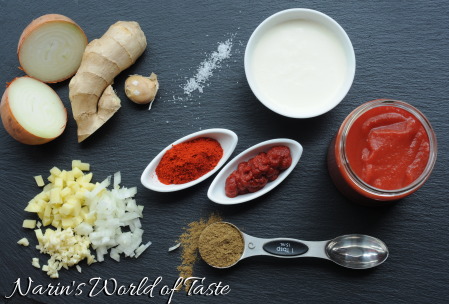 To make the curry sauce, peel the white onion and cloves of garlic, dice them thinly. Peel the ginger (the most efficient way is to use a teaspoon instead of a knife), and then chop about 5 cm of its root.
Heat the oil in a pot or braiser. Then add the onion, garlic, and ginger. Let them brown slightly.
Add the tomato paste (not the sauce), cumin, and Kashmiri chili powder, and stir to combine everything thoroughly. Then reduce the heat and pour in the tomato sauce. Let everything simmer on very low heat for about 20 minutes.
Puree the sauce with a hand blender until you have a smooth sauce. Add the coconut cream or heavy cream and season with salt.
Heat your barbecue and grill the chicken on both sides to get a nice brown color on the outside. Remove from the barbecue and cut the chicken into pieces.
Add the chicken to the curry sauce and combine everything, sprinkle some fresh chopped coriander on top.
Serving:
This Kashmiri Chicken Curry is best served with rice, or for a carb-free alternative, with Cauliflower Rice and Chickpea Flatbread. Serve ideally in a deep dish and garnish with fresh chopped coriander or mint leaves.
Enjoy, Melanie…
Categories: Main Dishes, World of Recipes